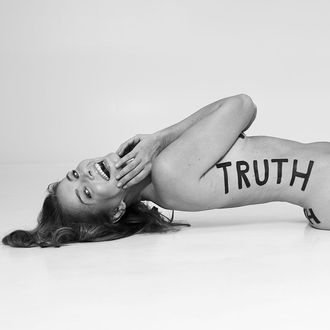 Paulina Porizkova posing for the 2018 Swimsuit Issue.
Photo: Taylor Ballantyne/Sports Illustrated
As sure as the sun sets and rises, as sure as the tides rise and fall, we are graced with an annual Swimsuit Issue from Sports Illustrated. This year, however, the compendium of models posing sexily on beaches in bathing suits arrives at a time when conversations about sexual harassment and the objectification of women are especially widespread. And so Vanity Fair spoke to editor MJ Day about making such an issue during the #MeToo era.
Last year's issue was about promoting body diversity, which they accomplished in part with three different covers featuring the diverse bodies of Kate Upton. They also ended on a shot of model Nina Agdal, taking a page out of Em Rata's book and wearing bikini bottoms and a tank top reading "A woman doesn't have to be modest to be respected."
There's more of that messaging in the 2018 issue with a nude spread called "In Her Own Words," which features models posing with words like "truth" and "artist" and "natural" painted on them. The issue will also feature more standard bikini shots.
"It's about allowing women to exist in the world without being harassed or judged regardless of how they like to present themselves," Day said. "That's an underlying thread that exists throughout the Swimsuit Issue."
"These are sexy photos," she added. "At the end of the day, we're always going to be sexy, no matter what is happening.
That sound you just heard was a thousand straight men collectively sighing in relief.