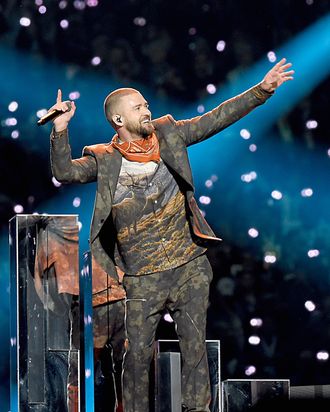 Justin Timberlake during the Super Bowl LII halftime show.
Photo: Kevin Mazur/WireImage
Per usual, no expense was spared for Super Bowl LII's halftime show — there were lasers, mirrors, and Justin Timberlake in camo.
Designer Stella McCartney even pitched in with custom-designed pieces for Timberlake to wear during his performance.
He took the stage wearing a black fringe jacket and transitioned into a camouflage splatter print with a Prince of Wales check suit, red bandana, and a cotton shirt with landscape scene of two deer by British artist Martin Ridley.
McCartney posted today on Instagram that the look was inspired by her autumn/winter 2018 collection. It was also influenced by Timberlake's new album, Man of the Woods, released on Friday. (The title was reportedly inspired by his son Silas whose name means "Man of the Forest.")
But this high-concept inspiration didn't seem to translate. And on Twitter, users gave Timberlake's look — and overall performance — very mixed reviews. But it was his deer shirt that took some of the hardest hits: