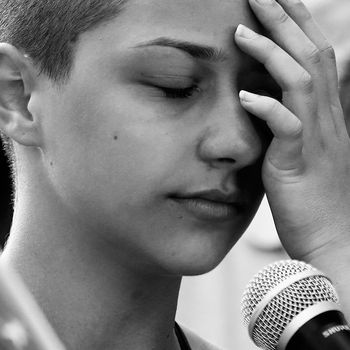 Marjory Stoneman Douglas High School student Emma Gonzalez.
Photo: RHONA WISE/AFP/Getty Images
In the wake of the massacre at Marjory Stoneman Douglas High School in Parkland, Florida, that left 17 people dead, students have begged politicians for gun reform and protested gun violence. At a gun-control rally in Fort Lauderdale, Florida, Stoneman senior Emma Gonzalez delivered an impassioned speech, in which she slammed the country's lax gun laws, the National Rifle Association, and the politicians who take money from the aforementioned organization.
"The guns have changed, but our laws have not," Gonzalez said. "We certainly do not understand why it should be harder to make plans with friends on weekends than to buy an automatic or semi-automatic weapon."
She continued: "We are going to be the kids you read about in textbooks. Not because we're going to be another statistic about mass shooting in America, but because, just as David said, we are going to be the last mass shooting."
And as Gonzalez finished the speech with a strong message for lawmakers and gun advocates, people in the crowd began to chant "BS" at the end of every sentence she delivered.
"The people in the government who were voted into power are lying to us," she said. "And us kids seem to be the only ones who notice and our parents to call BS. Companies trying to make caricatures of the teenagers these days, saying that all we are self-involved and trend-obsessed, and they hush us into submission when our message doesn't reach the ears of the nation, we are prepared to call BS."
Watch the powerful speech below.