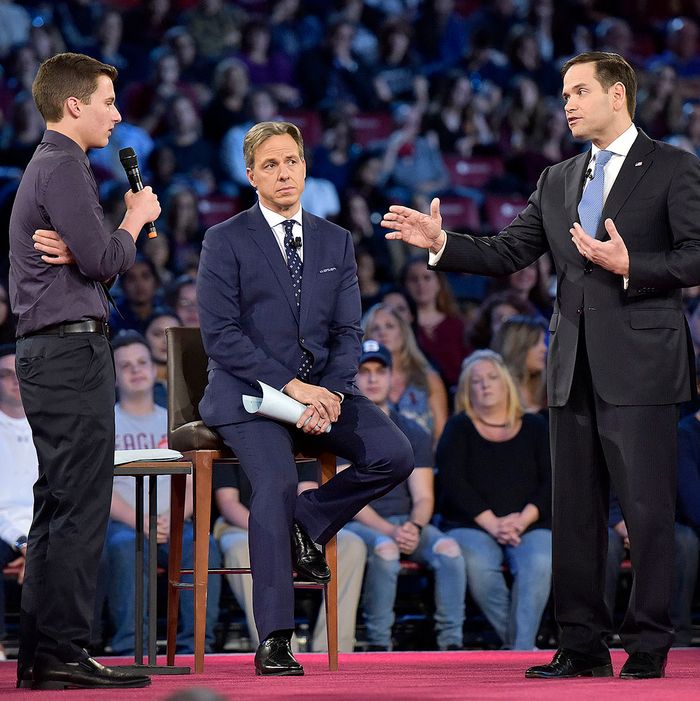 Marjory Stoneman Douglas High School shooting survivor Cameron Kasky takes on Senator Marco Rubio at the CNN town hall.
Photo: Michael Laughlin/AP
On Wednesday night, during a CNN town hall on gun control, survivors of the shooting at Marjory Stoneman Douglas High School asked lawmakers, law enforcement, and even NRA spokesperson Dana Loesch directly why their friends and family died at the school last week.
CNN's Jake Tapper moderated the event, which included Florida senators Marco Rubio and Bill Nelson and U.S. Representative Ted Deutch. The parents, teachers, and students present did not shy away from expressing their anger, disbelief, and sadness, and weren't afraid to talk back to lawmakers.
Now, as people on both sides of the issue continue to debate whether this tragedy will result in comprehensive gun reform, here are several moments from the town hall which suggest a movement is afoot that's unlike anything we've ever seen before.
A father called Marco Rubio "weak" to his face.
Fred Guttenberg, a father whose daughter, Jaime, was killed in the Stoneman shooting, told Rubio he was angry at him. "Your comments this week have been pathetically weak," Guttenberg said to the cheers of the audience. "Look at me and tell me guns were the factor in the hunting of our kids."
A student demanded a U.S. senator say whether the lawmaker will continue to take campaign contributions from the NRA.
Stoneman survivor Cameron Kasky challenged Marco Rubio to say whether the lawmaker would take donations from the gun lobby. "Can you tell me you won't take a single donation from the NRA?" Kasky asked. Rubio artfully dodged the question, and refused to answer, saying only, "People buy into my agenda."
A student confronted an NRA spokeswoman directly.
Emma González, whose speech calling for gun control went viral this weekend, asked Loesch about the NRA's official position on semiautomatic and fully automatic weapons; Loesch confirmed that the NRA still supports access to both.
A student got a senator to admit he's rethinking one of his gun-related positions.
Stoneman survivor Chris Grady asked Rubio if he believes there is a place for large-capacity magazines, and Rubio said he's rethinking his view. "After this, and some of the details I've learned, I am reconsidering that position," Rubio said.
A teacher forced an NRA spokesperson to explain the organization's positions in detail on national television.
Diane Wolk Rogers, a Stoneman Douglas history teacher, asked Loesch to explain her definition of a "well-regulated militia" and, using "supporting detail", asked her to explain how an "18-year-old with a military rifle" meets this definition.
Students wrote and performed a powerful anthem for a movement they started and are driving forward.
Performing a song they wrote, Stoneman's drama club presented "Shine," singing, "We're not going to let you win. We're putting up a fight. You may have brought the dark, but together we will shine the light."