Every fashion month I find myself getting mad about the same things. Are designers being more inclusive in casting and sizing? Are any designers including women of color, transgender, and non-binary in the conversation? Are street-style photographers going to stop shooting the same skinny white women over and over again? The answer is almost always no to all of that. This season the lack of inclusivity in street-style photographs was so blatant it felt cruel.
Unfortunately, I've learned that if I do not demand diversity, it goes unnoticed, and I no longer care to suppress my stance as an "angry black woman." If I don't say something, no one will. Once again the burden falls on black women to do the work that white women refuse to do.
Once upon a time (five to eight years ago on the internet), it was an actual status symbol to be included in a street-style feature. I loved watching the women walking outside of shows as photographers swarmed, yelling names as if the fashion editors were real celebrities. Even those who pretended like it was no big deal knew otherwise. People made careers out of it — both photographers and editors.
But, as it turns out, like so many other parts of the fashion world, it's chock-full of racism. In our own street-style photos from New York, out of almost 300 pictures, I counted only 29 of non-white men and women, with the same seven people repeated in that number.  The sad truth is that we're hardly alone in these staggering numbers. This was our failure as editors, and it is not the fault of any one person on our team including our street style photographer. But we know we have to change and do better.
The publications say it's up to the photographer, the photographers say they're just doing a job and aren't given creative freedom, and the influencers say they have to go to extreme lengths to get noticed. Whatever is at the root of this, it's clear that the purpose of street style is no longer about taking photos of well-dressed people to publish and share and inspire conversations about what makes a good look. It's a calculated process of seeking out people on a checklist, and making sure to photograph people who have millions of followers regardless of their outfits.
This season, standing outside of Spring Studios in the rain, I watched in disgust as impeccably dressed women of color, curvy women, and most women over 35 were ignored by the swarms of photographers. Worrying about feeling validated, pretty enough, or even just good enough to be photographed is something that everyone in the industry has had to deal with, whether they like it or not. "It is weird to think about how I have power over a complete stranger's self-esteem," one prominent photographer admitted. But what's the point of seeking validation from people that don't see me in the first place?
As we all jump on the #MeToo movement, or proclaim our solidarity at the Women's Marches, we must demand that fashion do the same. When will time be up on this glaring lack of diversity? When I spoke to several people in the industry they expressed waning interest in street style, but some still want to fix it. Below, insiders in the fashion community share their thoughts.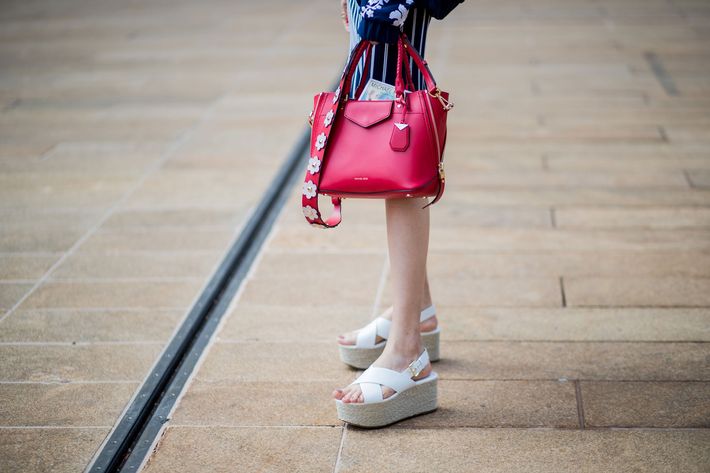 Tyler McCall
Deputy Editor at Fashionista
I've been bored with street style for several seasons now, which definitely boils down to the fact that it stopped being about true personal style a long time ago. Around 2010–2012 the real stylish people withdrew because to be seen as peacocking became embarrassing. Then more photographers started flooding in because they saw it as a way to make money (or pick up girls, in certain cases), but they don't necessarily have an eye for what's interesting, so they just study what other photographers are doing. The girls that these photographers are looking for are the ones being dressed by brands who don't offer sizes beyond a 10 or a 12. I've seen so many stylish women over a size 6 at Fashion Week and you'll watch them walk through a crowd of photographers who just stare at them.
Mary Kate Steinmiller
Brand Director at the Webster
When you're young and green and junior and trying to make your way in the industry it is very easy to get caught up in the silly thought that getting your photo taken means that somewhere in the industry you matter. One photographer actually said to me "you sort of lost it for a bit didn't you?" meaning he hadn't photographed me for a few seasons because I don't know maybe I wasn't dressed well? And somehow I had "it" again and he wanted to shoot me. That definitely haunted me. Now that I'm working in the industry in a more low-profile and behind-the-scenes role, I see how silly it is. I see people dressed literally in costumes and I get embarrassed about the times I pretty much did the same.
Chrissy Rutherford
Senior Digital Fashion Editor at Harper's Bazaar
I do think about this often because I think I have great style, and I often feel overlooked by photographers unless I'm wearing something that really stands out. But sometimes I see the street-style regulars literally just wearing jeans and a sweater, and the photographers will still go after them. So it makes you think, is it because I'm not pretty enough? Am I not known enough? But isn't it also the photographer's job to know who we are? And isn't it beneficial for them to focus on different people? When we edit street style we also keep in mind that it's nice to see some fresh faces. One of the worst parts of street style is that it's the same people season after season, wearing five different looks per day based on the day's show schedule because the designer has dressed them to sit front row. Where's the real personal style? Where's the diversity?
Julee Wilson
Fashion & Beauty Director at Essence Magazine
The streets have always been the runway for Black people. While doors to fashion shows, boutiques, and fashion industry jobs have historically been closed for us — we found sartorial freedom on the streets. As a Black woman who is a size 14 and the fashion director of a major publication it's natural for me to celebrate diversity in both race and size. But it's maddening not to see others like myself reflected in the documentation of fashion's biggest events. The time is up on a lot of things these days and we should certainly add this blatant misrepresentation and narrow view of style to the list.
Amelia Diamond
Head of Creative at Man Repeller
Besides the images our photographer takes for Man Repeller, the roundups from men's shows in Milan, and what I see in my Instagram feed, I don't really look at street style. I don't actively seek it out. It doesn't give me that, Cool idea, I want to try that! feeling that it used to. I take greater pleasure in looking at well-dressed people on the subway, or walking to work in the rain, because it's like: here's this person on her way to start the day. Who knows what she does for a job. And it's raining, the weather's shit, but even still, this human took the time to stick a flower in her lapel, or add ridiculous earrings, or wear funky rubber boots — for the sake of the city or a date later or herself, who knows. But not for a camera. I find that far more romantic.
Rachael Wang
Stylist & Brand Consultant
It's clear that many of the photographers are shooting what they think is "beautiful" and many of their standards of beauty are uninformed and straight-up racist or size-ist. They don't put care and love into taking flattering pictures of subjects who reflect a more inclusive view of society and thus, the editors don't select those images. But then again, if editors insisted on more ethnicity and size diversity the photographers would be forced to comply.
Jessica Andrews
Fashion Features Editor at Teen Vogue
Representation matters, and the lack of diversity in street-style photos sends the message that plus-size and nonwhite showgoers are not stylish — which we know is simply not true. It's the same reason we demand more of casting agents who book models for the runway and for advertising. If it's not acceptable for those mediums to discriminate by race and size, it shouldn't be acceptable for street style either. I've worked with street-style photographers in the past and I've had to ask them, sometimes repeatedly, to include women of color. But it's important that editors are persistent and unrelenting. And it's important that photographers and media outlets are held accountable.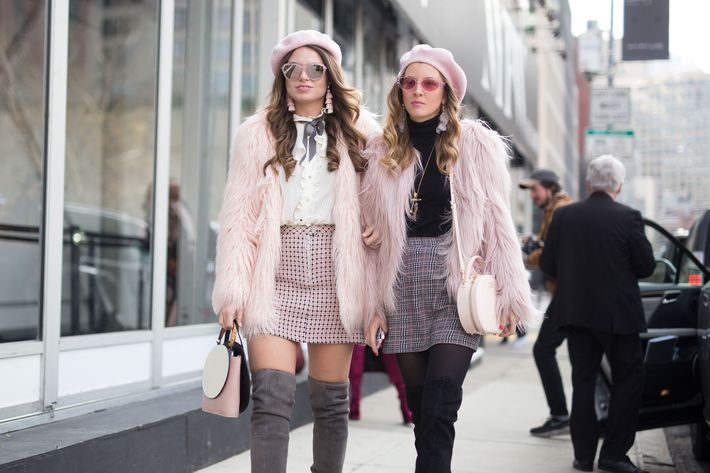 Aemilia Madden
Fashion Editor at Who What Wear
Street style is meant to be aspirational, but to be so it should also be reflective of all women. During Fashion Week there are so many women with amazing style but too often I feel like I'm searching through photographs of the same handful of people over and over again. I think it's frustrating for women to feel like they aren't included in the fashion conversation, and it's one change we can all push to change as an industry.
Nicolette Mason
Co-Founder of Premme & Creative Consultant
I definitely don't think it's the fault of any influencers — I think it's photographers, their inherent biases, and also the biases of what magazines are buying from them. Photographers are looking for specific looks, and it's no secret that a lot of designers or PR showrooms loan or gift clothes to street-style stars for Fashion Week. And those clothes are almost always sample size. I've been invited to showrooms before to pull and whenever I'm like, oh cool, do you have things in my size? They're like errr no sorry. I am definitely not sample size. So if I'm putting together a stylish outfit I'm putting myself together with whatever resources I have, essentially truer street style, that's less marketable than all brand-new season, easily identifiable, designer clothes that you can turn into click-through shoppable content.
Laurel Pantin
Editorial & Fashion Director at the Coveteur
I think obviously it's a symptom of a much, much bigger problem. I feel weird speaking to it because I definitely represent the standard that's shot and shown all the time. It's a bit of a cop out to say the problem is that samples only come in sample sizes, because that only addresses one aspect of diversity, but I think it is a part of it. It's hard to compete with someone spending 45 minutes "looking for their car" in a head-to-toe runway look when you're working within your actual closet — even though the actual closet outfit is ten times more interesting. As editors and the people selecting images to run, we have a responsibility to direct photographers to shoot a more diverse range of people, and then for us to run those images. There are an abundance of different types of people attending shows, and it might partially be laziness and a sense of "this works for traffic, we'll stick to it" when it comes to building these slideshows.
Lydia Hudgens
Photographer
I'm actually a full-time photographer. I've always worked with a wide range of people but what got me excited was always true style, people experimenting with fashion and having fun with it. I definitely work closely with a lot of plus brands and bloggers (Nicolette Mason, Gabifresh, Garner Style, Kelly Brown, Kelly Augustine, Premme, Eloquii, Universal Standard, Simply Be, Dia & co, Gwynnie Bee, Catherines, etc.) During NYFW, in the past I always shot paying clients. I was never at the tents, photographing random people as they walked by because my schedule was already filled to the brim and quite frankly, a lot of the people coming in and out all looked the same. I have noticed in the past that if another photographer saw me when I was shooting they would immediately rush over, but a lot of the time would lose interest if the subject wasn't white or thin.
These interviews have been edited and condensed.
The post has been updated to reflect no one person is to blame for our own lack of representation.