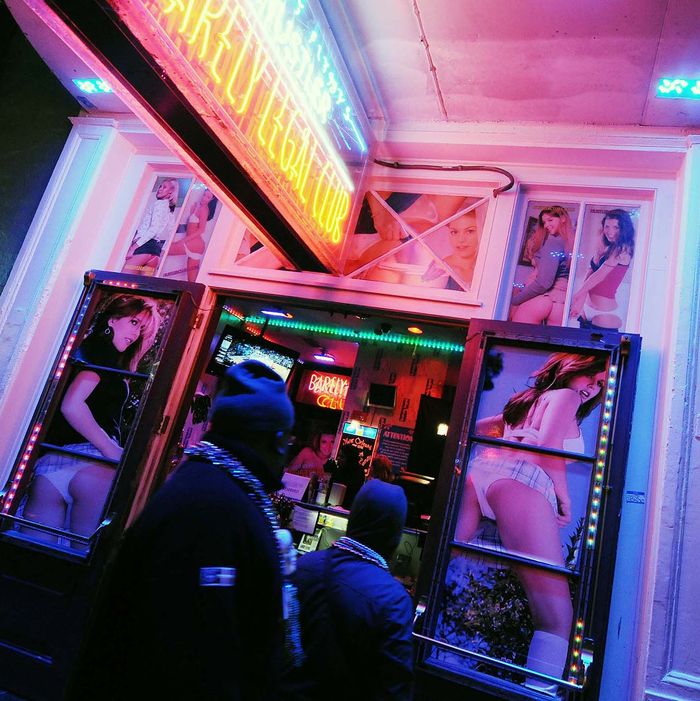 Larry Flynt's Barely Legal on Bourbon Street in New Orleans.
Photo: ullstein bild/ullstein bild via Getty Images
New Orleans strippers who are worried about their jobs crashed a press conference today on the city's famed thoroughfare of out-of-town-pukers, Bourbon Street, according to the New Orleans Advocate. 
City officials held the press conference to tout Bourbon Street's new asphalt, and announce that the street was "open for business" after a period of construction.
But several of Bourbon Street's most famous businesses — its strip clubs — have been closed following a series of raids that police said were designed to combat human trafficking. (Although the NOPD didn't make any arrests for human trafficking, the city and state did collect thousands of dollars in fines for other violations.)
News reports suggest that Scores, Stilettos, Rick's Sporting Saloon, and Rick's Cabaret will open again soon. However, the fate of Larry Flynt's Hustlers Barely Legal, Hunk Oasis, and Dixie Divas is still unclear. The city has reportedly shut down Temptations permanently. 
Now, many New Orleans strippers say they are out of work during Mardi Gras, one of the city's biggest and most lucrative times of the year.
"Every time a club closes, dancers get displaced," Sable Mongold, an entertainer and representative for the Bourbon Alliance of Responsible Entertainers (BARE) told the Gambit. "It makes less money to go around … and hurts the most economically vulnerable workers."
Others say they worry these closures are an effort to erase the soul of the city and turn it into Disneyland. One performer, Alison, told the Gambit: "If the new New Orleans looks like unemployed strippers I don't want to be a part of it."