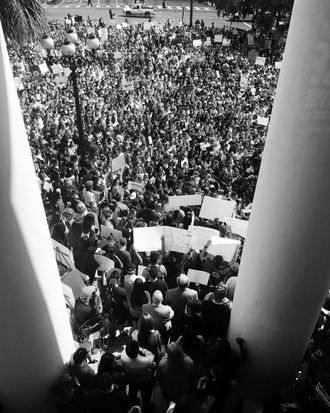 View from the Florida State Capitol.
Photo: Courtesy of Twitter/PixieLore
One week after 14 students and three adults were killed at Marjory Stoneman Douglas High School in Parkland, Florida, students across the state have mobilized to show their support for victims, and to demand stricter gun control laws from their legislators.
In Tallahassee, hundreds of students marched on the State Capitol, calling for an end to school shootings, and to join activists for an anti-gun rally on the steps of the building. Of the protesters, about 100 were Stoneman Douglas students, many of whom traveled overnight to Tallahassee on Tuesday after attending the funerals of some of their slain peers.
"This is how we're coping, this is how we're grieving, this is what is holding us together," Sofie Whitney, a Stoneman Douglas senior and one of the organizers of the #NeverAgain movement told The Guardian. "The only way to get through is by making the change. There's a hundred kids from a school that got shot up less than a week ago coming specifically to them, so if those legislators aren't receptive that's pretty embarrassing for them."
At the Capitol, students spent the morning speaking to lawmakers about specific gun reform measures they want, including tighter background checks, longer waiting periods, and higher age requirements. They also slammed them for voting down a ban on semi-automatic weapons — like the AR-15 which was used in last week's massacre — chanting "Shame on you!" and calling on legislators to take action.
"It is about human lives," student Alfonso Calderon said. "Please. I beg and I demand that every single person in power that has the ability to change the fear that kids feel going back to school, that they do something."
Later, students went to the lobby of Governor Rick Scott's office, demanding to speak with him. The governor's staff reportedly said he was "too busy" but that he would meet with them later.
Across the state, thousands of students staged protests and walk outs to show their support for Stoneman Douglas. In Parkland, students from nearby schools converged on the Stoneman Douglas campus, some marching from as far as 12 miles away. And as Time correspondent Charlotte Alter noted in a tweet, anti-gun rallies were popping up all around Florida's Snapchat map.
And the shows of solidarity have not been limited to Florida. Students in Maryland, Colorado, Illinois, and Washington, D.C., also staged walkouts.
"We (students) are the ones most involved in this," student Ariana Ortega told the Voice of America before boarding a bus to Tallahassee. "We are the ones who lived through this whole tragic experience, and we are going to be the future leaders of America."