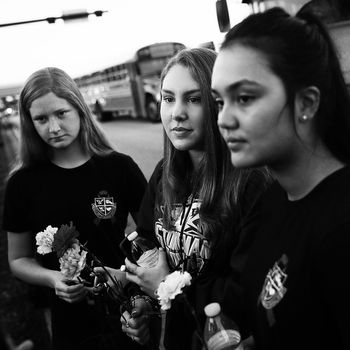 Photo: Joe Raedle/Getty Images
Two weeks after a shooter massacred 17 people at Marjory Stoneman Douglas high school in Parkland, Florida, students are returning to school. Since the shooting, some of the students have been thrust into the spotlight as Gen-Z political figures speaking out against gun control. A group of students have organized a march for gun control, one went viral for her impassioned speech, and many have used social media to direct the national debate surrounding gun control. But today, they're teenagers returning to their high school, where 17 of their peers, teachers, and coaches were slain by an AR-15.
Marjory Stoneman Douglas principal Ty Thompson tweeted yesterday that the students returning today would not have classes; instead, this week would focus on community healing and mental health.
They apparently had comfort animals available.
Several students honored coach Aaron Feis, who died in the shooting shielding students from bullets.
Others shared photos of the memorial surrounding the school.
David Hogg, who was accused of being a crisis actor and bullying grown man Alex Jones, stayed focused on the wider message. Instead of tweeting about returning to school, he encouraged fellow Floridians to register to vote.