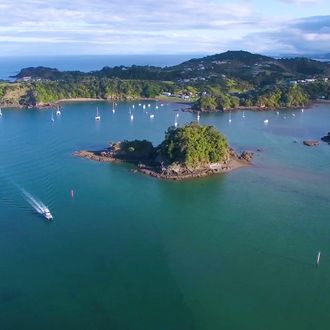 SuperShe island.
Photo: SuperShe
Please excuse me while I file a mail-forwarding request with the post office, because if anyone needs to reach me this summer, I'll be on a new ladies-only island off the coast of Finland.
As the New York Post reports, starting June 2018, women can book luxury vacations at SuperShe island — which I can only assume was named after the concept of "She-E.O.s" (shudders) (dies). The island is just an hour and 20 minutes from Helsinki Airport, and it's focused on the concepts of health, friendship, fun, and of course, women!!!!
Founder Kristina Roth told the Post that she came up with the idea after experiencing restorative vacations in Calabasas (OF COURSE) and Malibu, California — where she noticed women were apparently too focused on men. "When there was a cute guy, women would put on lipstick," Roth told the Post. "The idea [at SuperShe island] is, hey, focus on yourself — don't try to get your hormones up." So after falling in love with a Finnish man, she decided to open her own ladies-only resort.
Someone please call the producers of the upcoming all-female Lord of the Flies remake and tell them we've found the perfect location for their film.