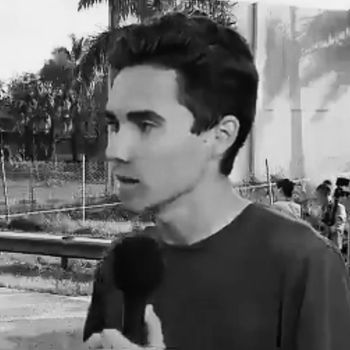 Stoneman Douglas student David Hogg.
Photo: Courtesy of CNN
In the wake of Wednesday's horrific school shooting at Florida's Marjory Stoneman Douglas High School, which left 17 dead, students who survived the massacre have been imploring their government representatives to take action against gun violence.
In an interview with CNN, student David Hogg looked directly into the camera and made an impassioned plea to Congress. "We are children. You guys are the adults. Work together, come over your politics, and get something done," he said.
The high-school senior told CNN that he and his classmates were unknowingly running toward the shooter when a school janitor redirected them to go the other way, something he credits with saving their lives.
"The fact that this is the 18th school shooting and it's only February is a testament to where this country has come and [how] we need to dig out of this hole; we need to step out of it and realize there's something seriously wrong here," Hogg says, adding that policy makers need to "look in the mirror and take some action because ideas are great, but without action, ideas stay ideas and children die."
16-year-old shooting survivor Lyliah Skinner also shared similar sentiments in an interview with CNN, asking: "if kids aren't even allowed to purchase their first drink of alcohol then how are we allowed to buy guns at the age of 18 or 19? … I feel like as our legislators and leaders, they shouldn't be offering prayers and words, we need action."
Broward county school superintendent Rob Runcie said he had been contacted by numerous students asking for action on gun control.
Meanwhile on Twitter, other Stoneman students made impassioned pleas for gun control, shutting down a tweet from Tomi Lahren where she said the Left should "let families grieve" before pushing a political agenda.
Other students directed their outrage at Donald Trump, who recently blamed the shooters' family and friends for the tragedy and refused to even mention the word "gun" in his national address.
This post has been updated throughout.