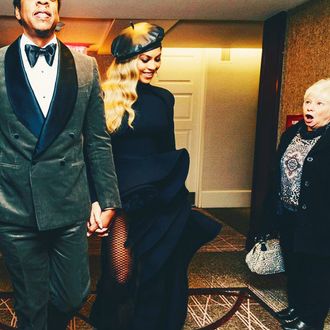 Jay-Z, Beyoncé, and stunned Susan.
Photo: Courtesy of Instagram/beyonce
No one had a more exciting Grammys experience last weekend than Susan Monaghan, the Massachusetts woman who ran into Jay-Z and Beyoncé as they were leaving for the awards show.
In a picture Beyoncé posted on Instagram after the Grammys, Monaghan can be seen gaping at the couple in awe — the face of a woman who has witnessed something truly magical. In an interview with the Boston Globe this week, Monaghan, described her brief encounter, and said that when Beyoncé smiled at her "I swear, I felt like I was being hugged by an angel."
Monaghan was in New York that day to attend her granddaughter's gymnastics competition, and celebrate her daughter's birthday. After dinner, she went up to her room on the eighth floor of the Sheraton New York Times Square hotel, where a large group of security guards and photographers was coming down the hall. As she stood to the side, a "handsome" gentleman looked at her and asked "You look familiar. Do I know you?'"
"I'm thinking in my mind, 'Who is this?' And I looked at him and he looked tall, and thin, and had curly hair, and was really good-looking," Monaghan told the Globe. "And I'm thinking."
That's when she noticed Beyoncé.
"I was like 'Oh, my God!'" she said. "I looked at her and all I could think was, 'No one is going to believe me. No one is going to believe me.'"
Ever the generous, benevolent ruler to her adoring subjects, Beyoncé told Monaghan "Don't worry, it's going to be okay."
"I think she posted it for me," Monaghan said about the now-viral picture. "So people would believe me."