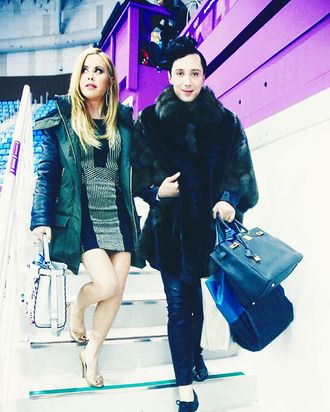 Tara Lipinski and Johnny Weir in Pyeongchang.
Photo: Courtesy of Instagram/taralipinski
Oh, excuse me, did you incorrectly assume the 2018 Winter Olympics in Pyeongchang were about sportsmanship, ice dancing siblings, and athletic drama? Because if so, you'd be dead wrong. In reality the games exist for one reason and one reason only: to showcase the wardrobes of NBC correspondents Tara Lipinski and Johnny Weir.
The duo recently told the New York Times that they arrived in South Korea with what us mere mortals would consider an insane amount of luggage for a two week trip: 13 suitcases for Weir and 9 suitcases for Lipinski. But as they explained to People, the pair never wear the same thing twice during the Olympics. "And so we brought everything," Lipinski said. And it shows:
Each night during NBC's skating coverage, while we focus on the impressive jumps and simulated sex moves of the athletes, many of us are simultaneously fixated on Lipinski and Weir's typically dark-and-sparkly attire (like if Studio 54 had a goth theme night) and random bursts of idyllic color (like if Studio 54 had an Easter brunch).
When it comes to Weir and Lipinski's fashion, their backgrounds as Olympic figure skaters are truly on display. With official ice skating costumes, the Cut was told by two designers, many athletes opt for crystals, stones, and glitter to help them stand out in the crowd. And what's more, costumes help skaters evoke the appropriate emotions and tell their story — just as Weir and Lipinski do with their 2018 looks.
"My clothing are my treasures, my Picassos," Weir told the Times. I didn't grow up with much, so when I purchase something or own something, it's more about the experiences that I had to be able to afford that thing, the memory of where I bought it." He also added, "Everything has meaning. It isn't just a sparkly jacket."
Lipinski explained to People that she and Weir always match their outfits for each event. And so far, their looks have included an Erickson Beamon chest harness for Weir, Alice and Olivia and Bailey 44 dresses for Lipinski, and a Carolyn Bolby ear cuff for Lipinski that People notes was recently worn by Katy Perry.
We can't wait to see what they'll be wearing during their final time in the Olympic commentator booth on Friday night.