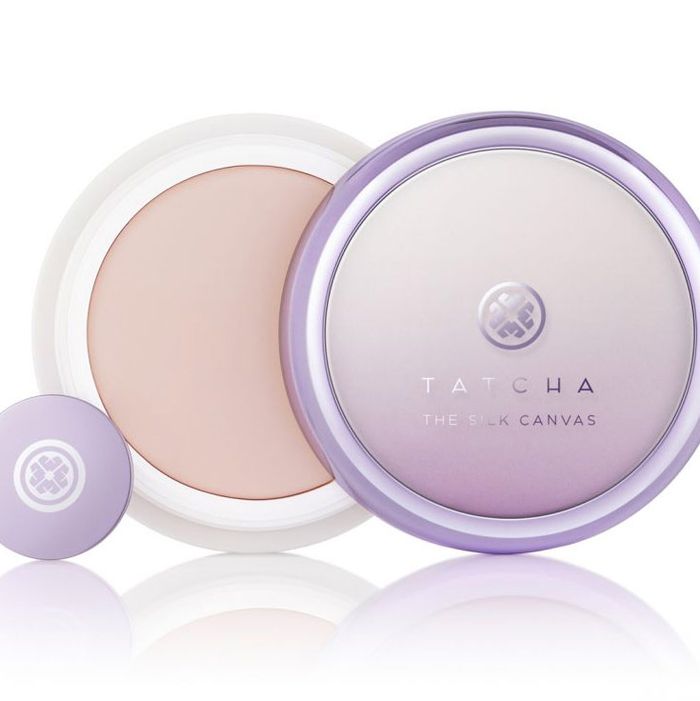 When a pricey new version of a historically unnecessary item accumulates a massive fan base, that's worth looking into. Tatcha's The Silk Canvas primer quietly launched earlier this month, and despite its lean marketing campaign and steep cost, Sephora and Tatcha.com are struggling to keep it in stock.
There a few reasons why people (myself included) are going nuts for this stuff. While most primers feel like oddly-textured moisturizers (too many are sticky or weirdly grainy), The Silk Canvas begins as a solid that melts into an invisible, feather-light face shield. Applied alone, it makes your face appear smoother and less greasy. Acting as a kind of barrier, the pressed silk in the primer prevents liquid, cream, and powder makeup from falling into your pores, which in turn allows you to use less makeup. All primers should do this; most, unfortunately, do not.
Like many people, I once thought primers were a pointless step on the seemingly endless journey to beautification. I've tried them all, at every price point, with disappointing results. The Silk Canvas is simply different; it is an iPhone in a world of Razrs. Its superiority is supported, in part, by an elegant mix of ingredients. In addition to silk, a special, water-thin silicone called cyclopentasiloxane amplifies the primer's smoothing prowess. Squalane, rice ferment, glycerin, and yeast also supply your face with moisturizers and good-for-you antioxidants.
Victoria Tsai, Tatcha's founder, explained to me exactly how to use it. Grab the nickel-size applicator chip that arrives with the primer, glide it over the product, and stop when the primer reaches the horizontal line in the middle of the chip. You should have about a pea-size amount. Dot the formula all over your face and rub it in. The pink-beige color will completely vanish. On the rare occasion I wear eye shadow, I also apply the primer over my eyes to make the shadow colors more intense and and longer-lasting.
Like everything within Tatcha's oeuvre, The Silk Canvas was inspired by Geisha beauty rituals. And though I'm unsure whether a Geisha would spend $52 on a primer, I can tell you with certainty that it would be absolutely worth it.
If you buy something through our links, New York may earn an affiliate commission.