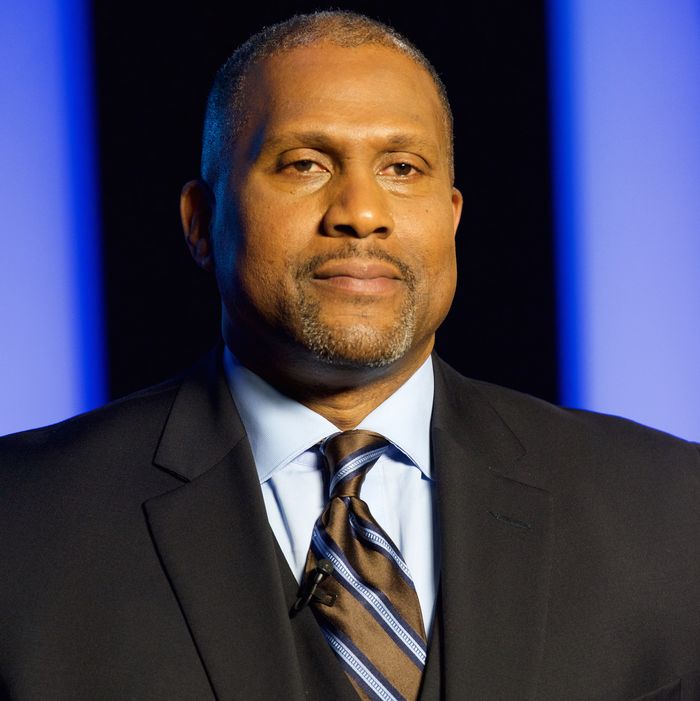 Tavis Smiley.
Photo: Earl Gibson III/Getty Images
Tavis Smiley is suing PBS following the network's decision to fire him over sexual misconduct allegations, reports the Washington Post. The suit alleges that PBS breached its contract with Smiley's production company and owes damages.
Last December PBS suspended his late-night talk show Tavis Smiley. At the time, the network explained in a statement that after learning about "troubling allegations," it hired an external law firm to conduct an investigation into Smiley's production company, TS Media, which produced his television program. The investigation reportedly uncovered a "verbally abusive and threatening environment," and women who worked for Smiley claimed in interviews that they entered into sexual relationships with their employer out of fear it would negatively impact their careers if they refused.
Smiley has denied all allegations of nonconsensual sexual activity with his employees, though he has admitted to having relationships with staff members in the past. Shortly after his show was terminated he went on Good Morning America and said, "I have never groped, I have never coerced, I have never exposed myself inappropriately."
In the suit, Smiley is alleging that PBS was using "trumped-up" harassment charges as an excuse to end Tavis Smiley, which it had distributed for 14 years. His complaint claims that there was already tension between his company and PBS that had to do with race. His filing states:
"[PBS] has presented complaints and hassled Mr. Smiley when he had African American guests who espoused controversial positions, and effectively tried to stop any such guests from appearing. By contrast, PBS never raised editorial issues or hassled Mr. Smiley when he had white guests who espoused equally controversial positions (if not even more controversial."
A representative for PBS told the Post in a statement that the suit is "meritless."