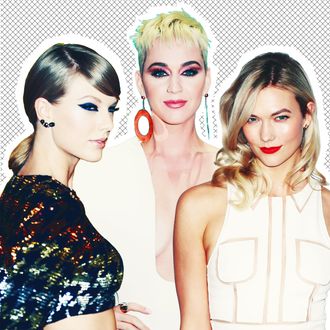 Taylor Swift, Katy Perry, and Karlie Kloss.
Photo: Getty Images
I can't believe this drama: Karlie Kloss is hanging out with Katy Perry. Do you know why that's bad? Karlie Kloss — model, coder, girlfriend of Jared Kushner's Democrat brother — is supposed to be best friends with Taylor Swift. And Taylor Swift is definitely, forever feuding with Katy Perry. Has Kloss canceled her longtime Swift-squad membership and pledged allegiance to a new adult woman?
TMZ thinks so. The gossip site has an exclusive photo of Kloss getting sushi with Perry in West Hollywood last night, which you can see here. Also pictured at the dinner date: Jen Meyer (celebrity jewelry designer), Dasha Zhukova (the ex-wife of Russian billionaire Roman Abramovich), and Derek Blasberg (professional celebrity friend and shameless super-connector). Kloss has been hanging out with this group of rich and powerful people, sans Perry, for a while now; she went on vacation to Peru with Meyer, Zhukova, Blasberg, and others over the holidays. When she got back, she posted a video from her LOVE Advent-calendar shoot (don't ask) with the caption, "Swish swish," which is the name of a Katy Perry song about hating Taylor Swift. So fans have suspected that Kloss and Swift haven't been on great terms for weeks now.
The new photo of Kloss and Perry will surely devastate #Kaylor believers — those fans who are invested in the unproven theory that Swift and Kloss are romantically involved. It now seems more likely than ever that Swift and Kloss have broken up for good.