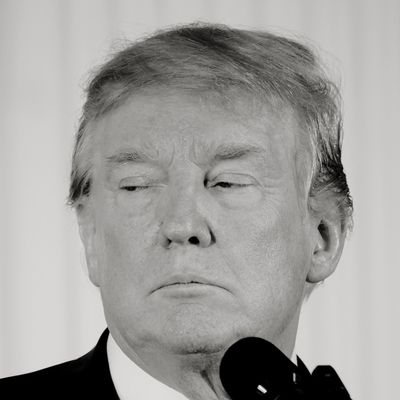 Donald Trump.
Photo: MANDEL NGAN / Contributor/This content is subject to copyright.
Donald Trump and his handwritten empathy reminders apparently weren't enough to impress victims of the mass shooting at a high school in Parkland, Florida. For more than an hour, he met with survivors of the shooting to ask them about their experience and offer his sympathies. However, per the New York Times, one teen survivor was not impressed.
Samantha Fuentes, who was shot in both legs and was left with a piece of shrapnel lodged behind her eye, told the Times that she did not feel reassured during her phone call with the president. When he called her hospital room, she said, "He said he heard that I was a big fan of his, and then he said, 'I'm a big fan of yours too.'"
Fuentes said in an interview, "I'm pretty sure he made that up. Talking to the president, I've never been so unimpressed by a person in my life. He didn't make me feel better in the slightest." She also said he referred to the gunman, who killed 17 people at a high school, as a "sick puppy" and said, "'oh boy, oh boy, oh boy,' like, seven times."
When it comes to condolence calls, practice does not make perfect for Trump.