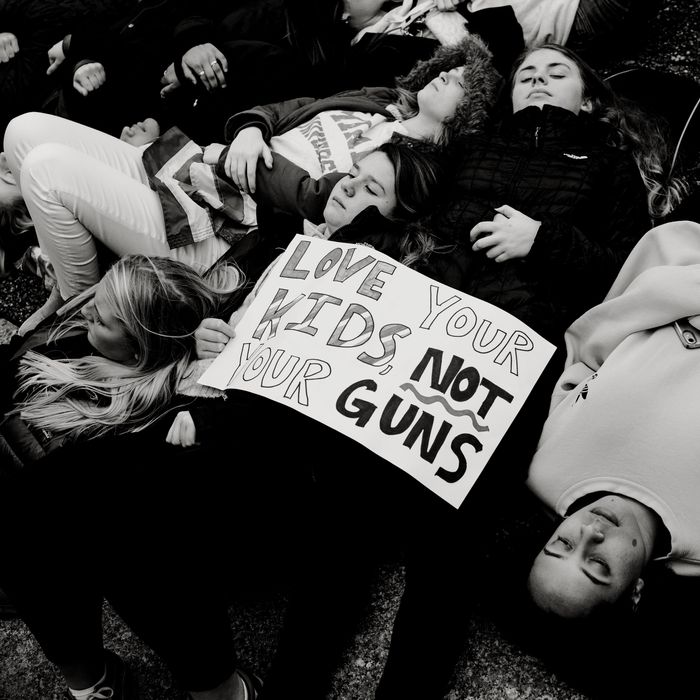 A sign at the protest.
Photo: Zach Gibson / Stringer/2018 Getty Images
Less than a week after a gunman killed 17 people at Marjory Stoneman Douglas High School in Parkland, Florida, teens are protesting outside of the White House. The demonstration was organized by a group called Teens for Gun Reform, led by 16-year-old high school juniors Whitney Bowen and Eleanor Nuechterlein. They created a Facebook page for the event and publicized it over social media.
The president was in Florida at the time, but the protest began with 17 students lying down for three minutes. After three minutes was up, they invited others to lie with them. Nuechterlein told the Cut that 17 was to symbolize the victims of the Parkland shooting, and three minutes represented the amount of time it takes to buy a gun in America. The time varies from state to state. Nuechterlein told the Cut that she thinks "over 100" people attended the protest.
"It's not just adults that want something done, it's people that are younger," Nuechterlein said. "At the end of the day it isn't supposed to be partisan. It's supposed to be everyone coming together and realizing that children feel unsafe at school and something needs to be done about it … We're really horrified because it could be us, you just don't know. People my age are just scared."
Since the shooting last Wednesday, teenagers have been especially vocal about their desire for gun reform. A group of Parkland shooting survivors, also teens, are organizing a nationwide protest on March 24 called "March for Our Lives." A senior who survived the shooting, Emma Gonzalez, gave a widely shared speech shaming lawmakers who take money from the NRA and those who do not actively work to change lax gun control laws.
"We're growing up in a world where we have to be scared when a book drops in school or we hear a loud noise in public," Neuchterlein said. "That's just not something I want to have to live with."