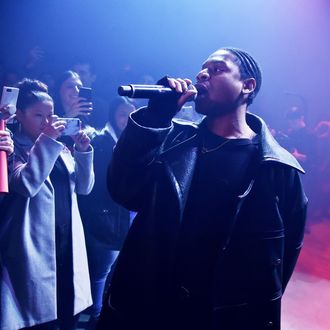 Photo: Theo Wargo/Getty Images
First, there was the Fashion Week rigamarole. The "Please scan your identities, arrange yourselves by professional and social standing, wait shoulder-to-shoulder for 45 minutes, and, excuse me, I really need you to scooch scooch for this Vogue editor" rigamarole. There seemed to be no escaping it.
But then it was heaven.
On Friday night at Spring Studios, Telfar brought New York Fashion Week to a higher place with its fall 2018 show, "MUSIC," which was done in the round as a concert, as opposed to on a runway. Dev Hynes, the British singer-songwriter of Blood Orange, took the stage first in a black leather Telfar jacket with detachable sleeves. He sat at a piano, which was perched above what looked like subway grates.
Hynes was then joined by Ian Isiah, an R&B singer from Brooklyn who was an ambassador for Hood by Air before the brand went on hiatus. Isiah acted as the choir leader for the night, performing his own version of "Grateful" — a song by the gospel singer and Brooklyn megachurch pastor Hezekiah Walker — in red leather Telfar pants and a distressed silk shirt.
"Instead of using musicians for their celebrity — we are seeking a core musicality that is shared and human," read the brand's show notes. "Towards an idea of individuality that is collective."
One by one, musical artists Kelela, Kelsey Lu, Starchild, 070 Shake, Oyinda, and several others joined the chorus. They were all dressed in Telfar's fall 2018 collection, which was inspired by rock and roll, a genre the show notes described as "so ubiquitous that it signifies nothing: achieving the neutrality needed to make it Telfar."
In addition to casting director Walter Pearce, models Alton Mason and Adonis Bosso also performed, demonstrating that they are more than just pretty faces or bodies for our viewing pleasure — they have incredible voices as well. (Bosso released his first single, "Jungle," in September.) The audience members had to ask themselves: Why hadn't they heard these voices before?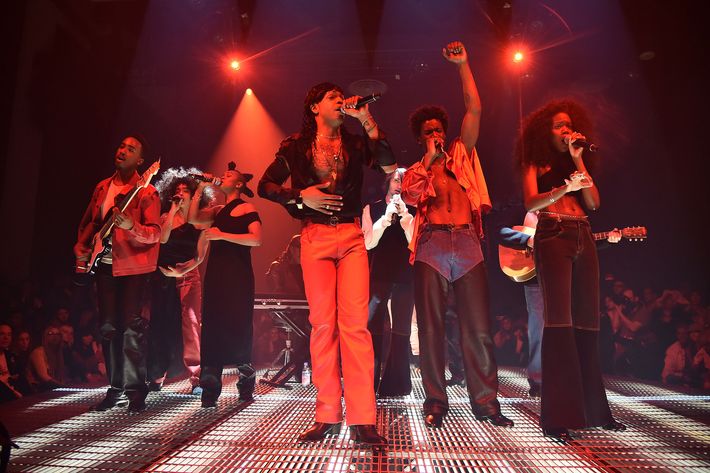 In the past few seasons, we've seen the fashion industry scramble to right past wrongs in an effort to be more inclusive and in sync with the times. A prime example of this is the CFDA/Vogue Fashion Fund, the 2017 nominees of which CFDA chairman Diane von Furstenberg called the most diverse class in its 14-year history. Telfar Clemens, who is 32 years old and launched his genderless fashion label in 2005 with the motto "It's not for you, it's for everybody," took home the $400,000 grand prize in November.
"It took over 10 years for Telfar to receive a review from the fashion industry," read the fall 2018 show notes. "A few months ago we won its largest and perhaps most conservative prize. It's not lost on us that the cause for both may be the same."
What Telfar proved on Friday night is that designers don't need to preach identity politics, racial politics, gender politics, class politics, or any politics, really. Rather, they can just do what human beings have been doing for centuries, which is take thy neighbor to church.