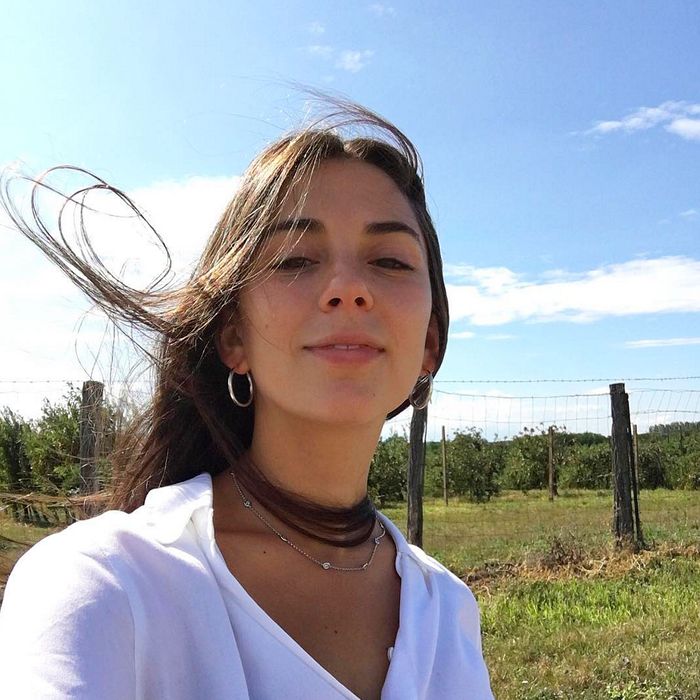 Do you ever see someone on Instagram and think "Why is your skin so good?" We do, so we started asking. Welcome to Why Is Your Skin So Good, a new series.
Allie Bernabei's job means she takes a lot of long flights, and she plans her skin care accordingly. "I work freelance doing visual merchandising," she explains. "I'm currently working with a client in Milan, so I've been traveling back and forth pretty often. So I need an easy skin-care routine that's manageable no matter where I am."
Bernabei also owes her good skin to drinking a ton of water ("A gallon a day!" she says) and exercise. "I usually run for about an hour, and go to yoga 3 times a week. My days feel incomplete if I don't take the time to run and let my thoughts go."
Scroll down for her simple skin-care routine, which includes a product vetted by her grandma.
The Cleanser
"I like this cleanser because it's moisturizing and gentle, but it also takes off all the makeup and dirt. My skin is super sensitive. It's also great because you can buy it anywhere!"
The Serum
"New Yorkers know you have to stay hydrated in the cold winters. But before I put on face cream, I always use this. An added perk is that all Shiseido products smell so good."
The Day Cream
"Even when your body is covered in multiple layers in the winter, you still need a sunscreen to protect your skin. I'm a supporter of face cream with SPF."
The Moisture Locker
"When it's freezing in the city with heavy winds, I put Aquaphor all over my face. I use a big glob, in my hands and rub it on my entire face … I don't know if this is good for everybody, but to lock in the moisture and protect my skin, I use this. It gives you a healthy, sweaty glow, too."
If you buy something through our links, New York may earn an affiliate commission.