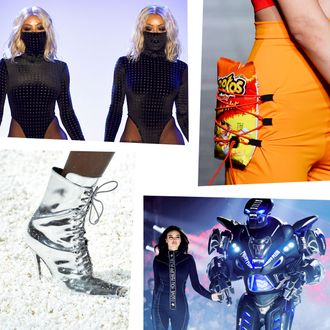 Another New York fashion week has flashed before our eyes. At the fall 2018 shows, food was used as a prop and an accessory, banana clips returned to the cultural zeitgeist, and more than one legend took a final bow. Relive the best, craziest, and most fashion-y moments below.
1. Flu masks became the hottest new accessory.
Fashion Week persisted in the midst of a particularly nasty flu season. Several brave show-goers accessorized their outfits with decked-out flu masks. Staying healthy is always in style.
2. Designers were obsessed with snacks.
Raf Simons had 50,000 gallons of popcorn trucked in from Chicago (yes, you read that right). Chromat used Flamin Hot Cheetos as handbags. Rosie Assoulin enlisted not one, but two cool chefs to make a food installation for her presentation. See more of the best food moments here.
3. The Olsen twins gave everyone crystals at The Row.
The Olsen twins are real designers, as their most recent collection proved once again, but they're not above a stunt. They gave each attendee a crystal — either clear quartz to promote "universal harmony" or black tourmaline for "protection." Both were meant to "block negative energies" and need to be cleaned via a 24-hour salt bath.
4. Offset smoked … something during the Prabal Gurung show.
We can't confirm what the substance was, but Offset did light something in the middle of Prabal Gurung's show. He was sitting in the front row next to his fiancée Cardi B and several seats down from Huma Abedin. Whatever it was, hopefully he shared. Watch their special moment here.
5. Philipp Plein created a beautiful love story between a model and a robot.
Philipp Plein's penchant for over-the-top set design hit a new high with his latest show. Not only was the runway covered in fake snow and covered by a spaceship, but it also kicked off with a robot walking with Irina Shayk to the tune of "Fly Me To The Moon."
6. Turtlenecks became sexy.
Gone are the stuffy, suffocating turtlenecks of yore. Say hello to the sexy turt.
7. 4,000 feet of hand-dyed silk were turned into nail art.
Libertine's latest collection featured some pretty intense nail art. 4,000 feet of hand-dyed silk were turned into floor-grazing nails — an "ode to the comfort in nostalgia." Luckily, none of the models tripped.
8. Marvel staged an incredible runway for Black Panther.
Who knew that Marvel could throw such a good show? The "runway" was actually a charity auction event named "Welcome to Wakanda." Designers created custom pieces for it, including Cushnie et Ochs, Tome, and Brother Vellies. See stunning behind-the-scenes photos here.
9. Anna Wintour and Cardi B sat next to each other at Alexander Wang
Worlds collided at Alexander Wang's last New York Fashion Week runway show in the graveyard of Condé Nast. Anna Wintour sat next to Cardi B, who arguably had the best time this week. Tag yourself — we're Grace Coddington.
10. Century 21 (yes, the department store) hosted a rager.
Telfar threw a concert instead of a show and followed it with a party at Century 21 in Lower Manhattan complete with White Castle, onion rings, and a long, long wait to get in. Our reporter was told it was "the clout Olympics."
11. Carolina Herrera said good-bye to New York Fashion Week.
A ball-skirted icon since the '80s, Carolina Herrera took her final bow with her atelier by her side on Monday. She announced days before that she would be stepping down as creative director of the brand and Wes Gordon would be taking her place. "This will allow me to spend more time at home with my husband, grandchildren, and great-grandchildren," she told the Cut. See hidden moments of her final Fashion Week here.
12. Several models at Marc Jacobs got their hair dyed backstage.
In a testament to their dedication, several models got new jewel-toned 'dos before the Marc Jacobs show began. The hair, done by Guido Palau, was inspired by Vidal Sassoon's sharp, modern cuts — then dyed emerald, raspberry, or electric blue.
13. Nineties hair accessories returned.
It started with Alexander Wang's banana clip (or claw clip, depending on who you ask) accessorizing his Matrix-y looks and continued at Prabal Gurung with comb headbands. Co-collaborator Claudio Lazo, who worked with Anthony Turner on the style, said it was, "reminiscent of the day after."
14. A 10-year-old drag kid gave Kaia Gerber a run for her money.
Cindy Crawford's spawn Kaia Gerber is the biggest model of the moment, but next season Desmond Napoles might usurp her. The 10-year-old "drag kid" known as Desmond Is Amazing made his runway debut at the fall 2018 Gypsy Sport show.
15. Calvin Klein re-created Andy Warhol's Silver Clouds
Physical stores aren't really the focus of Fashion Week (unless you're throwing a party in Century 21). But Calvin Klein turned its neon yellow flagship into a Warhol-ian playhouse filled with silver mylar balloons. The effect is pretty spectacular.
16. And, as always, Cathy Horyn helped us make sense of it all.
This season, the Cut's fashion critic Cathy Horyn wondered why American fashion is better at imagining nuns than female sexuality, explored the nuances of downtown vs. uptown cool, and explained how we should interpret political fashion.