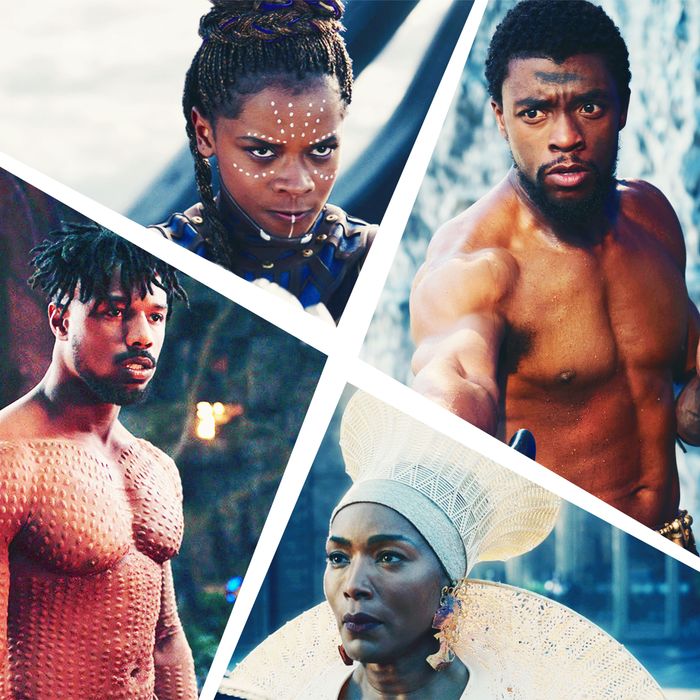 The box-office numbers haven't even rolled in yet for Black Panther, but the months leading up to the movie's release have spawned so many important conversations — about blackness, about representation, about natural hair, about identity, about black womanhood. All of these pieces have been joyous and ecstatic and thought-provoking, serving to highlight how important it is to not only represent diversity but celebrate it like crazy.
But I'd like to propose that one of the most important conversations we all ought to have after seeing Black Panther is how this movie gave us a cast of incredibly hot black people (and, fine, a few tokens from the cast of The Lord of the Rings) and somehow found a way to make them even hotter. Like. Damn. What? Motion Pictures Association of America, are you asleep! These people are so hot that Black Panther almost deserves an NC-17 rating.
Thirst was piqued early on when the trailer and promotional posters hit, but y'all, those small little morsels in no way prepared us for how attractive every single person looks in the actual movie. It's like a glow-up on steroids. It's damn near pornographic. To rank any of these people in order of hotness is a task that would make my brain explode because everyone is a No. 1, gold medal, A+, tasty-ass snack. Instead, here is a broad appreciation of all the deliciousness to behold in Black Panther, a.k.a. Marvel's Sex Film.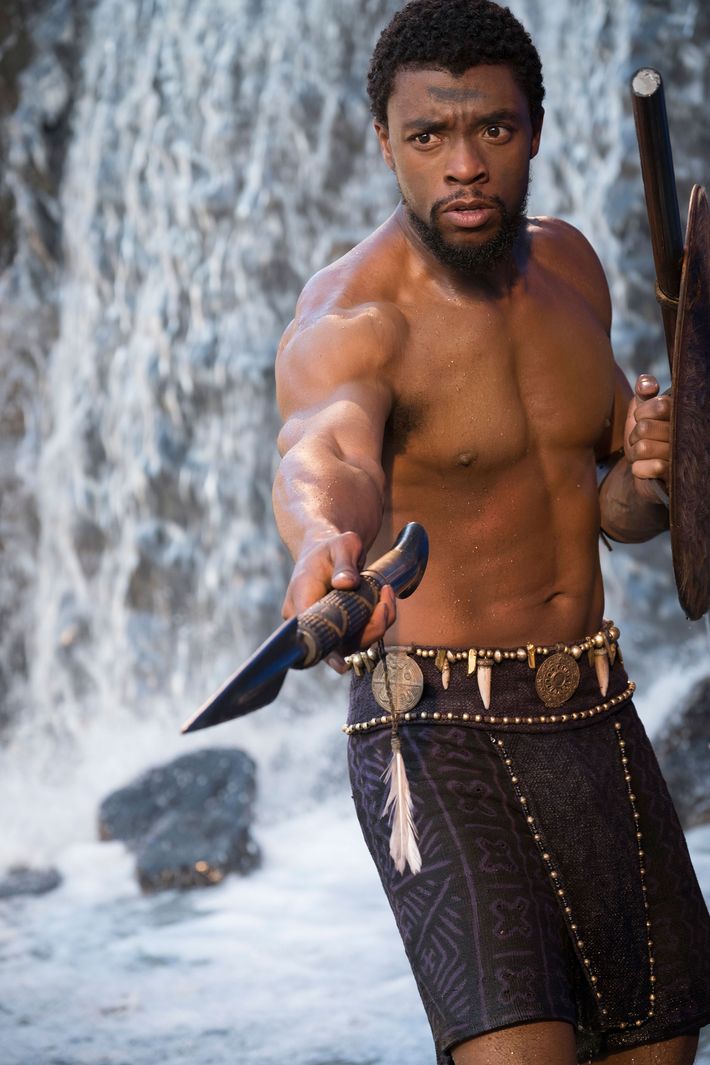 T'Challa (Chadwick Boseman): As the new king of Wakanda, T'Challa is conflicted: How to unify his people? How to protect them from attacks from sociopathic villains? How to lead? Yes, yes, harness the power of your ancestors and become the Black Panther, because the skintight suit means showing off your very muscular thighs and buttocks. But please don't forget the most important tools held by the ruler of a nation: that beautiful smile; that kind, soft gaze that falls upon Lupita Nyong'o so plaintively; that sexy voice that sounds like suede feels; and a good heart that beats beneath two chiseled pectoral muscles. In those pecs, the entire mediating power of the United Nations.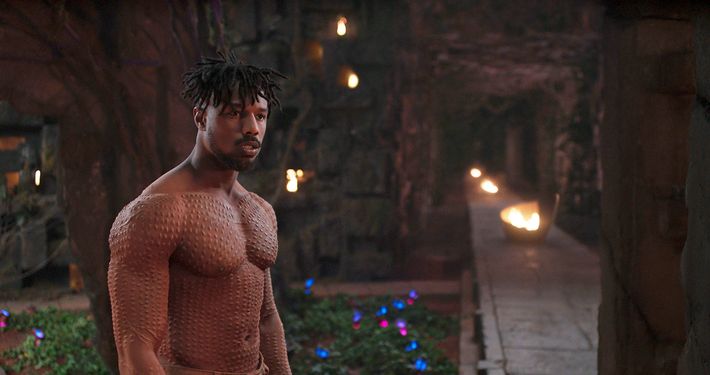 Erik Killmonger (Michael B. Jordan): Michael B.! What are you doing to us! Showing up swoler than Drake the year he was trying to get Rihanna. As Killmonger, he has the platonic ideal of fuckboy accoutrements: drop-crotch pants, fly sneakers, a shearling-lined denim jacket, Warby Parker glasses, locs somehow fashioned into bangs that … look good, no fucks to give except in regards to the one righteous cause he won't stop talking about (one man's fight for the throne is another man's Kanye-is-the-best-rapper-alive). Shirtless, he has the audience willing to do just about anything for him, including listen to his centuries-long sermon about reparations he's been practicing since grad school.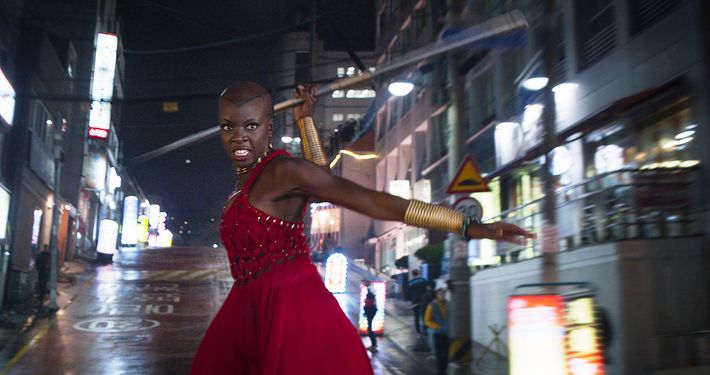 Okoye (Danai Gurira): As one would expect, Gurira's Okoye steals every single fight scene — she can brawl, in a gown, in perfect gold jewelry, without smearing her lipstick. (She's also not afraid of a bold color and cutout.) What one would not expect: Her cheekbones are sharp as finely crafted Japanese knives … and are her deadliest weapon.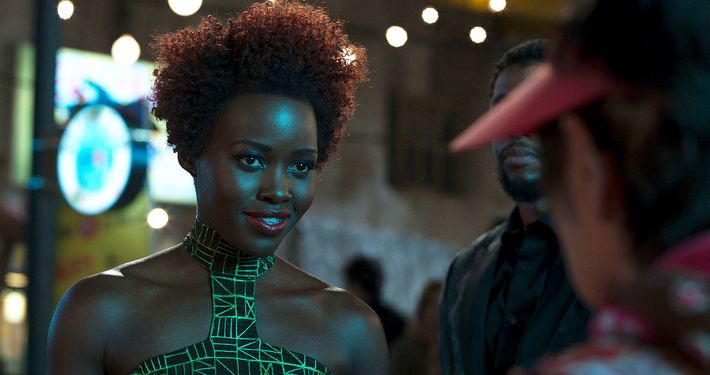 Nakia (Lupita Nyong'o): Lupita, a few questions for you regarding the ethereal Nakia, who lights up the screen and T'Challa's heart to the point he freezes in battle: Who makes your jumpsuits? What highlighter do you use? Tell me more about your hair? How can I get it on my head? Do you realize you've never looked more beautiful than you do in this movie? Do you mind telling me exactly what combination of food and drink and air is responsible? Be specific?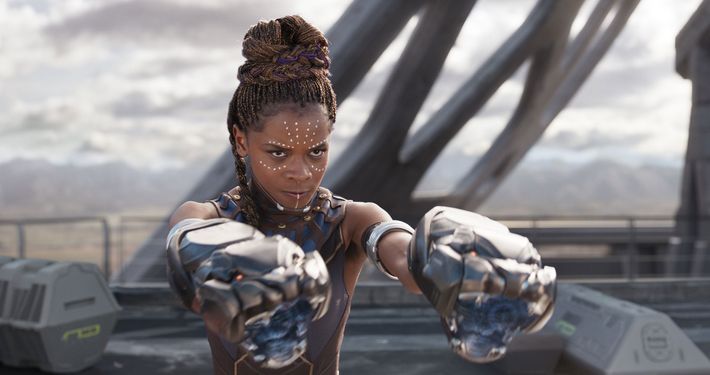 Shuri (Letitia Wright): Shuri is a teen hacker with the brain power to run AppleFacebookTeslaGoogleAmazon all at once. Her braids: always impeccable, down to the slicked-down baby hairs. Her hacker style is the perfect blend of athleisure with a touch of cyberpunk and Hood by Air. Her wit? The girl breathes burns. Shuri might be a princess, but she's about to be the queen of all the fanboys and girls at Comic-Con.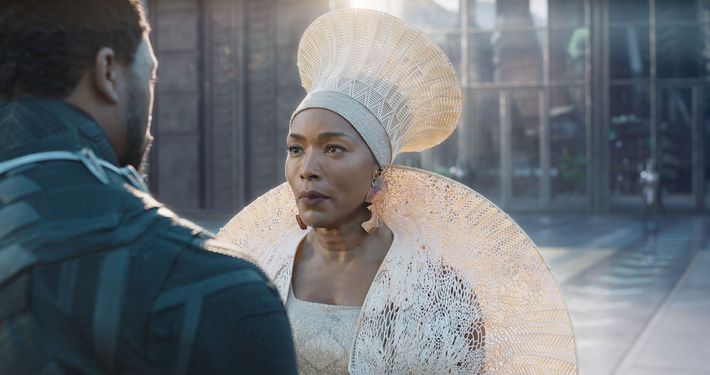 Ramonda (Angela Bassett): Sorry, Meghan Markle, I understand that your royal style is impeccable enough to give People's subscription base a total chubby, but until you've mastered Ramonda's queenly looks, your aesthetic will always feel like a Sears catalogue. And let's talk about that skin! It's skin that looks like she's never seen a worry, a sunray, a year on this Earth, not even while helping to rule a nation. And please, look at how she pulls off white dreadlocks my heart hath stopped.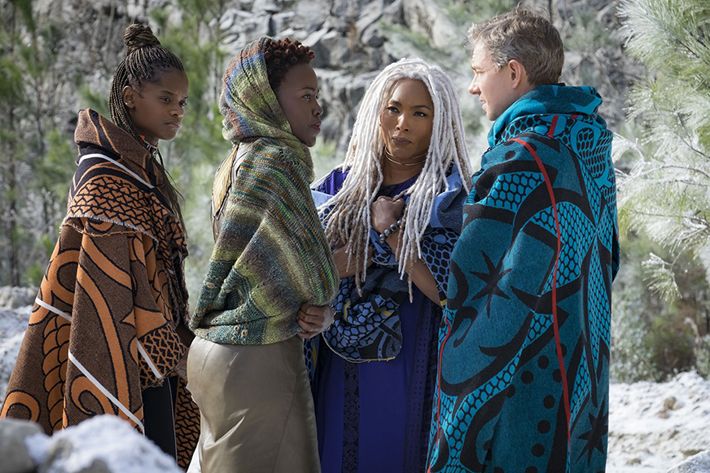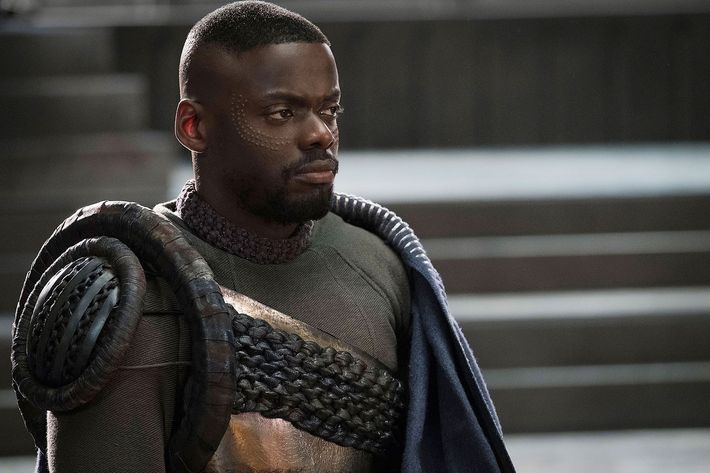 W'Kabi (Daniel Kaluuya): I can't understand why it is damn arousing to watch W'Kabi care for giant rhinos. Wait, I know why: Daniel Kaluuya is a babe. He's so serious, so mysterious! His face is a deep placid lake. You don't know what's at the bottom until he beholds his big ol' rhino, when his eyes alight and his smile breaks the surface. I wish, oh how I wish, I were that big ol' rhino.
Everett K. Ross (Martin Freeman): Who knew the man who was once Hobbit could hold his own amidst the aesthetic homicide that is the Black Panther? But go on, white chocolate, you do it! Maybe it's shine theory, or that psychological effect that makes a person seem hotter in the company of more attractive people, or maybe it's just that Wakanda's airspace grants anyone an immediate glow-up but, Everett … I wouldn't say no to that side-parted silver fox.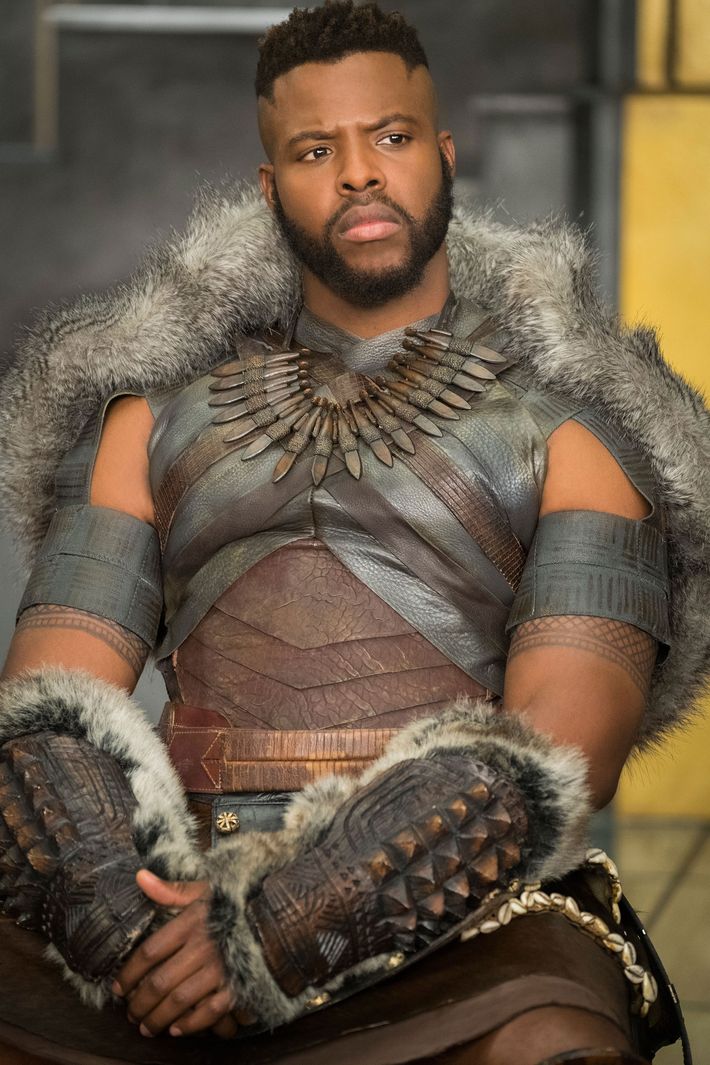 M'Baku (Winston Duke): I am new to the Winston Duke fan club — are we the Dutchesses? — but excuse me while I spend the weekend watching everything Winston Duke has ever starred in, including the home videos I'm gonna break into his mom's house to get. When Duke walked onto the screen for the first time as M'Baku, shirtless, in a sarong ready for a battle, I heard music: specifically Justin Timberlake singing "Watcha gonna do with all that meat?" And for the first time, I wasn't angry to have that song in my head. M'Baku so hot he makes "Filthy" a palatable song.
What's in the water in Wakanda? It's making me incredibly thirsty.