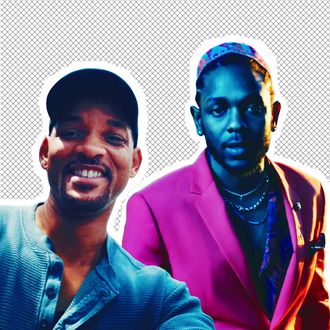 What's Good is a weekly column collecting TV, music, movies, and miscellaneous cultural ephemera worthy of your time. Why? Because we like it. Check back Fridays at lunchtime for your guide to what is good.
The Fresh Prince of Instagram
I'm sort of terrified to say this, but I'm sorry, Beyoncé: Your Instagram presence is amazing and has brought me such joy for so many months, but you've been dethroned as the reigning Instagram celebrity by Will Smith, newly anointed Fresh Prince of Instagram. (Zing.)
Smith started using his account in December, during the promo tour for Bright, a Netflix movie we'd all like to forget. Ellen DeGeneres is out there trying to take credit, saying she got Will Smith on Instagram in the first place (please, white people, please), but it's Smith's personal magic that has earned him 7.9 million followers. He's posted just north of 60 times. And it's like he knew he really owed his fans after the whole Bright blight, because his content is gold standard.
The magic of the Will Smith Instagram boils down to the essence of Dad. Like, between pictures of food, throwback photos of himself and his kids, and a few videos of dance moves, Smith is basically replicating everything your own father might do on Instagram. But elevated. Dadgram, but make it less traumatically embarrassing. Despite a long run of overbloated, over-serious "hero" roles in movies like Bright (god, sorry to bring it up again) and Suicide Squad, Smith really is at his best when he's being a goofball a la Fresh Prince or Bad Boys or Hitch. He is charming as fuck and should only be cast in movies where he is smiling the entire time.
Recently he's won praise for his craft after he deciding to good-naturedly troll his own son, Jaden Smith, by parodying Jaden's music video for his new song, "Icon." And man, did Will go for it. "Dad Trolls Confusingly Otherworldly Hip Son" has to be the best possible use of any social media, and Smith — who put on a huge gold chain, cool boy denim, and a grill — did it better than anyone. (Like, who produced this? I want to know who Smith's Instagram spouse is more than I want to know if he's actually a Scientologist.) And let's not overlook the other excellent examples of Smith's Insta-oeuvre: Him playing with a rubix cube and getting very excited, his self-aware food pic of food that he was so excited about, his voice-over narration of images from his past like he's filming his own PBS Biography. And my personal favorite: An inspirational motivational vacation Vlog, which consists of him reminding us of the reasons we shouldn't sleep in. I think he's referring to the beautiful beach, but for me, it's Will Smith's Instagram videos.
Plus: The Black Panther Soundtrack
Other reasons to get out of bed today: Kendrick Lamar's Perfect Black Panther soundtrack a.k.a. songs for the best Black History Month ever. I'm going to be hyperbolic here because I've been listening to it for 12 hours and my adrenaline is surging, but this isn't so much a soundtrack as it is an event. Remember when movie soundtracks used to essentially be stand-alone albums? Like Purple Rain, for example (Or Prince's Batman album, more accurately). It wasn't just a collection of songs, or a "Yo, Rita Ora and The Weeknd (Fifty Shades) or Paramore (Twilight), could you record a sort of throwaway original song" sort of deal. These were carefully crafted albums that could stand alone as a collection of timeless bangers, enjoyable even if you'd never see the movie. (But, like, see Black Panther.) Black Panther is essentially a really, really good Kendrick album — he produced and provides vocals for every song. And he got every good person on the radio on a track: Khalid, Jorja Smith, SZA, 2 Chainz, Anderson .Paak, to name a few. The result is a collection of songs I want to dance to in some club while yelling "WAKAANDAAAA". There are only good songs on this album, but some of the best: "The Ways," "Redemption," "Big Shot," and "All the Stars," the video for which is as visually satisfying as the movie itself.
Figure Skating, or Grey's Anatomy?
Shonda Rhimes is doing the most over there with every one of her shows, but Television's Best Drama is actually Olympic Figure Skating. (And it's best soft-core romance too, thanks to a Canadian couple who's signature move is basically a face-sit.) What does your favorite TV show have that figure skating doesn't? Nothing. What does figure skating have that a nighttime soap doesn't? The following: Adam Rippon, Johnny Weir's outfits, Tara Lipinski's attempts to speak, an organic dramatic narrative, and Nathan Chen struggling to come back after an epically bad short program — a cliffhanger more potent than this week's Grey's Anatomy. I'm hooked and will probably need an emotional support dog by Sunday at 8 p.m. for the Men's and Women's free-skate.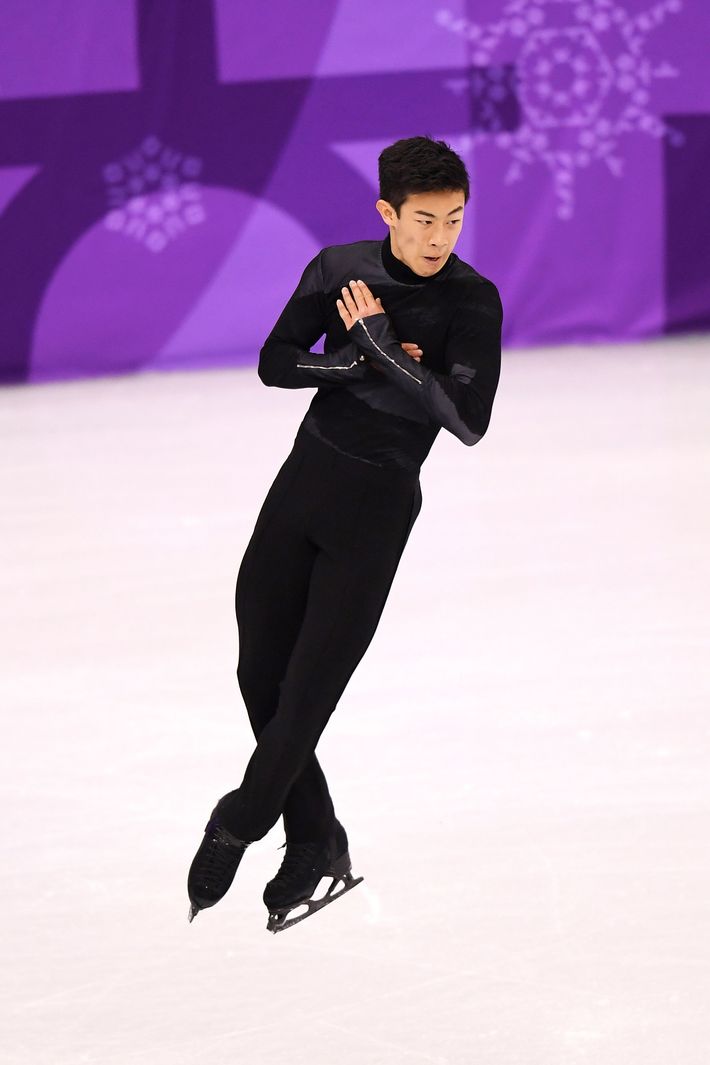 We Are Finally Fifty Shades FREED
Congratulations, everyone! We can finally say "laters baby" to the two sentient jars of mayo who have been making sex sexless since 2015. It's been a long three years, huh? Three years full of Rita Ora, robotic fucking, wooden acting, and admittedly pleasant scenes featuring the Seattle cityscape: Fifty Shades, you've given us so much. But before we bid a final good-bye to the Red Room, we still have to sit through the last film in the trilogy, Fifty Shades Freed, in which Christian finally marries Anastasia. Some survival suggestions: Pour vodka in your Slushie; see it at 11 a.m. with Mimosas in your cup; smuggle in a bottle of red wine to go with nachos and drink that. What I'm saying is: get drunk and heckle Rita Ora. Me, I'll be seeing it with my mom. This is a tradition. I can already tell you her review: "I wish you would find a boyfriend like Christian Grey."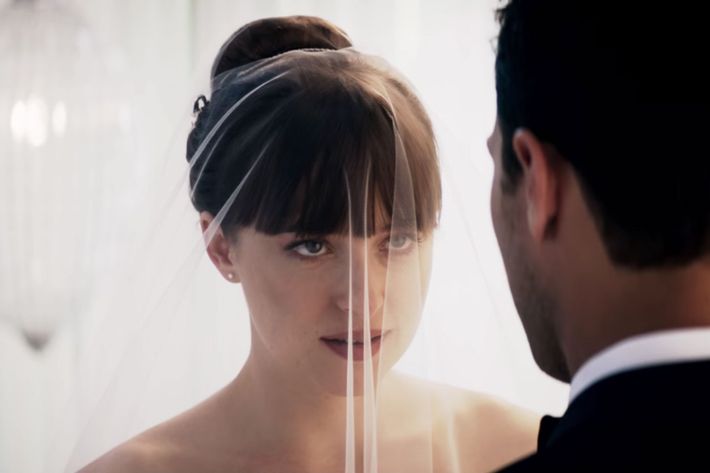 Dream Team: Shaggy and Sting
I tried to block this one out, but the peanut butter and pickles pairing of Shaggy and Sting is actually delightful. They teamed up for a dancehall-inflected album slated to drop in April, and I don't know how this happened, or why it happened, because that sort of reality gets in the way of the erotic fiction I'm suddenly inspired to write, but they've released a video for the first single, "Don't You Wait." Sting's white ass goes to Jamaica with Shaggy, risks sunburn and doesn't totally embarrass himself! Good or bad, the two of them together is basically all I can think about right now.
Other things to obsess over: Dashboard Confessional has a new album, Crooked Shadows, after eight years of leaving us alone and letting us be okay. Sure, Chris Carrabba has grown in that time, and we must too, but really everyone involved in this just wants to cry and hold themselves like they did when they were 13.
Do you only have "Hotline Bling" dance moves in your arsenal? Be grateful that Drake has unveiled some new dance moves to memorize before Saturday night, courtesy of the video for "Look Alive".
And binge Babylon Berlin on Netflix. It's a sexy German period drama that's as addictive as The Crown.