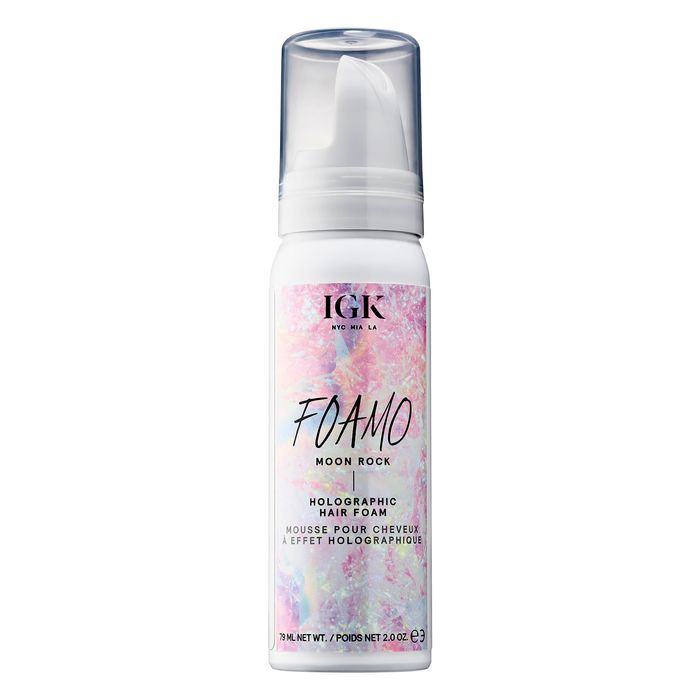 Glitter isn't going anywhere anytime soon — it's been spotted on the eyelids, cheekbones, and clothes throughout Fashion Week. Hair brand IGK noticed when their holographic hair foam, Foamo, sold out within a week of launching and gave plenty of unlucky shoppers major FOMO.
The foam is infused with blue sea kelp extract and moonstone extract for a vitamin-rich glimmer. Foamo comes in two shades: Moon Rock and Meteor. Moon Rock morphs from pink to teal while Meteor shifts from blue to purple and shows up better on darker hair. For a subtle hint of glitter, try applying with a comb, or paint it on with a flat foundation brush for a more celestial look. The foam isn't crunchy (it feels like a lightweight hair spray), is easy to wash out, and doesn't leave glitter lingering for days. It's also vegan and cruelty-free.
Franck Izquierdo, co-founder of the edgy hair-care brand, credits the product's versatility for the surge in sales. "It was important to not only develop products that work on both light and dark hair color, but actually show that it works on both," he told the Cut. "Our strategy was to put out a lot of content on social leading up to launch showing the finish to make sure brunettes and blondes knew it would work for them."
Any unconventional hair color that actually shows up on dark hair is an automatic win, and clearly their customers think so too. The product is in stock now at Sephora, but it's unlikely to stay that way given all the hype.
If you buy something through our links, New York may earn an affiliate commission.