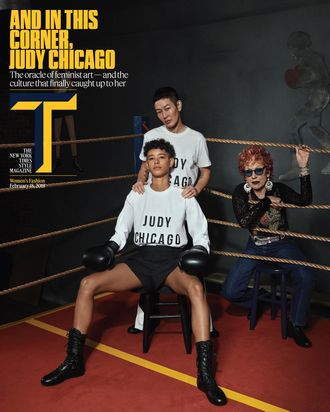 T Magazine
's Women's Fashion issue cover.
Photo: Collier Schorr/T Magazine
In a moment when New York is about to be flushed with the glow of Fashion Week — when stories of politics and news will be placed next to shots of women in luxurious clothes and when some designers will undoubtedly use their runways to make grand cultural statements — it's fitting that we are getting a newly revamped T Magazine. On Wednesday, the New York Times style magazine, T, goes live online with a new look and feel, thanks to its new editor-in-chief, Hanya Yanagihara. The issue will hit doorsteps of all Sunday Times subscribers on February 18.
Yanagihara, a novelist, travel writer, and editor, was born in Los Angeles, though she moved around quite a lot, spending time in Hawaii, Texas, Maryland, New York, and California in her youth. In 2015, after leaving Condé Nast Traveler to be the deputy editor of T Magazine, she published her second book, A Little Life, which went on to become a best seller. The book was also shortlisted for the 2015 Man Booker Prize and was a finalist for the National Book Award in fiction. In 2016, Yanagihara decided to take some time for herself, what she refers to as an "adult gap year," which ended when she got the editor-in-chief job at T in April of 2017. The position was previously held by Deborah Needleman, who left the magazine in November of 2016. Executive editor Whitney Vargas acted as interim editor-in-chief in between the two women, during which the magazine reduced publishing frequency from 13 to 11 issues a year, an amount they are sticking to with Yanagihara in charge.
It's impossible to tell the story of T's new look without Yanagihara, who prefers to call it a refresh rather than a redesign — "it wasn't a broken book," she said of Needleman's T. "I wanted the book to be filled with things that felt personally meaningful to me." And she has succeeded — the Women's Fashion issue seems to be an extension of Yanagihara herself, whose speech mirrors the tone of T, eloquent and serious, even as she casually sneaks jokes into conversation.
The day before T's refresh went live online, Yanagihara, 43, sat in her office. Her hair was pulled tightly back, showing off T-shaped diamond earrings (coincidence?) and a set of three gold necklaces. She looked calm and put together, despite the fact that she was getting over a cold and had four issues coming out in the next two months. "We come out the 18th, the fourth of March, and the 25th of March," she said, staring at the production schedule tacked up on her office wall. "One of my other goals is to really just get more organized here."
Yanagihara's decision to undergo the "refresh" was not a criticism of Needleman, who brought on Yanagihara, as well as former Cut senior editor Isabel Wilkinson, she just felt the magazine needed an update. "I looked at each rubric and each page and thought, Can this be improved?" Yanagihara said. "And in some cases it couldn't be. It did what it was supposed to do and we couldn't make it better."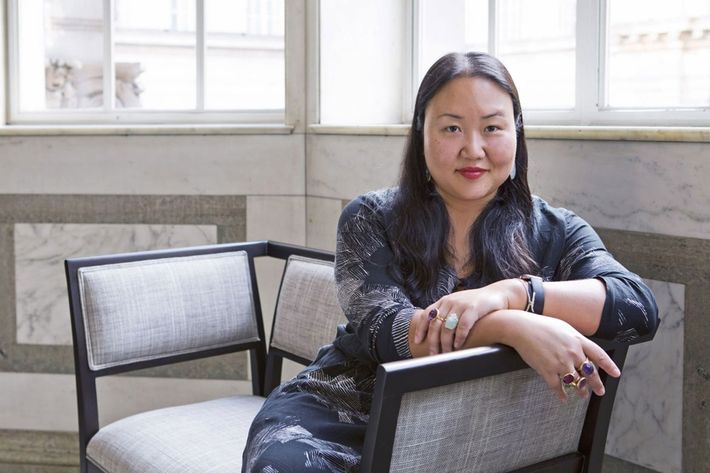 Yanagihara's biggest change? "We wanted it to feel urgent, like it was reflecting culture, the way that fashion and art reflect culture now." Five years ago, when Needleman started as editor-in-chief, the world was in a different place. "Deborah made a book for the Obama years," Yanagihara said. "By which I mean, it wasn't made in a moment of crisis." Yanagihara's magazine, while still beautiful and luxurious thanks to Patrick Li, who stayed on as creative director after Needleman left, has an edge to it that feels necessary at a time when the #MeToo movement and the Trump administration are dominating the headlines.
While T may never outright address politics (they have reporters upstairs who can do that), Yanagihara is not avoiding the tough issues. Each story in the new issue, while well-written and informative as ever, brims with ulterior motive. "Every single piece reflects and refracts something that has been happening in the A section [of the New York Times], but it just does it in a way that's about the material good and aesthetic movements in our lives."
Take the cover story, for example. The piece, written by The New York Times Magazine's culture editor, Sasha Weiss, features the feminist artist Judy Chicago. It is partly a profile of Chicago's life and greatest works, but it's also a story about women struggling to find their place in the field of art, as well as in the world at large. The story follows Chicago through her journey in the art world as she fought for recognition. It depicts a moment when a man "literally turned his back on" Chicago's work, later telling her that "he'd been paralyzed by the fact that her work was better than that of the men in her circle." For Yanagihara, Chicago seemed the obvious choice as the new T's first cover star. "She did it first," Yanagihara said. "I hope it will be a revelatory piece for people who do look at young artists and think, where did that come from, because a lot of it comes from her."
T has a message, that much is clear, but it's hidden between photos of beautiful clothes (draped on models of color, something very important to Yanagihara). It lives and breathes in the stories of culturally relevant artists and modern designers — one can't pick up the issue without realizing what's important to Yanagihara. In some pieces, like "The Godmother," about Chicago, she wants the reader to understand the influences of art today. "It's about wanting to give people a context for where those supposedly new ideas are coming from."
In another story, about the return of classical figurative art, Dushko Petrovich takes a trend in the art world and explains it by citing the cultural, political moment. He posits that "it is reassuring to have a painting that looks like what it's supposed to because nothing in the world looks like what it's supposed to anymore," Yanagihara explained. "Art and culture have always been immediately reflective of the times and I think now more so than ever."
And then there's the emphasis on global coverage and thwarting common misconceptions about the non-Western world. "Traditionally when the magazine turned its gaze outside of America, it typically looked to France and Italy and that makes sense," said Yanagihara, "but it neglects huge parts of the world; you know, it neglects Asia, it neglects South America, Australia, the Middle East." Bringing in global influences is important to T, which boasts the largest international readership throughout the New York Times. So, when Yanagihara needed an architecture piece for the newest issue, it seemed obvious to cover Japanese architect Kengo Kuma, who was chosen to build the National Stadium in Tokyo for the 2020 Olympics.
T is still a style magazine, but that doesn't mean it will avoid the tough topics. "I don't think that you can do a magazine that doesn't take into account culture in America at this moment or at the New York Times." While traditional international fashion magazines might be able to get away with a purely aesthetic publication, it's just not possible in America right now, according to Yanagihara. "Politics is inseparable from culture," she said. They reflect and bounce off each other. In this, Yanagihara has accomplished her goal with the refresh, making T feel more urgent: a vessel for not only aesthetic beauty, but also commentary, from a place where you'd least expect it.