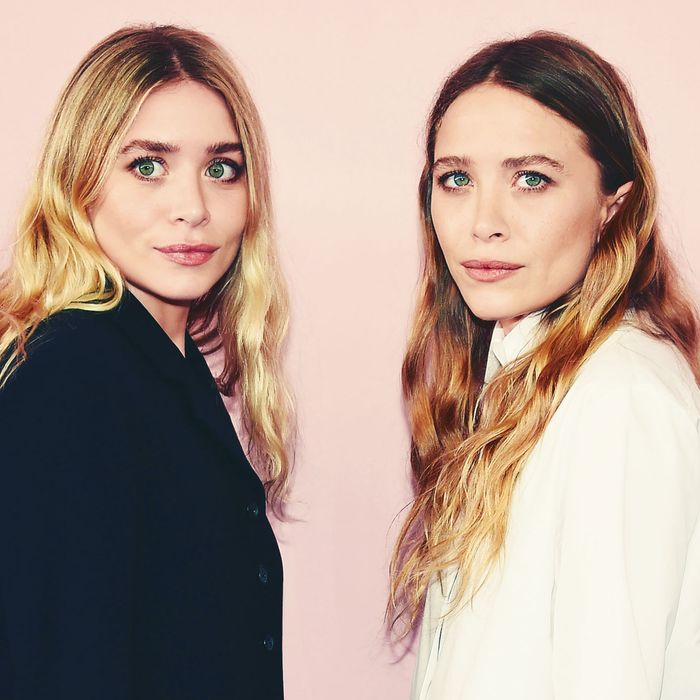 Mary-Kate and Ashley Olsen.
Photo: Dimitrios Kambouris/Getty Images
Time and time again, Mary-Kate and Ashley Olsen prove that their personal brand is as indestructible as the earth's crystals.
On Monday morning, the Olsen twins showed their fall 2018 collection for the Row wearing their signature very large coats, sipping coffee out of tall, disposable containers, and generally existing on a higher plane than the rest of us.
The runway consisted of a Noguchi sculpture exhibit, curated specially for the occasion. Guests were served a light "breakfast" of scones and mochi, which looked more like pebbles. The clothes themselves were a reflection of your wildest, would-be Céline dreams, shown to a soundtrack of "Everybody's Gotta Live" by the 1960s rock band, Love.
The most on-brand element of the show, however, had to be the goody bags. Each person was given a palm-sized crystal, either in black or white. Clear quartz crystals were meant to be used for "universal harmony," or balancing and revitalizing the "physical, mental, emotional, and spiritual planes." Meanwhile, black tourmaline crystal were specifically for "protection."
"This crystal is a protective stone which repels and blocks negative energies," read an accompanying notecard. "It also works in reducing fear and increasing focus." There were instructions for both on how to clean your crystal, in case you didn't already know that it requires a 24-hour salt bath.
We're no crystal experts, but we're pretty sure that anyone who touches an Olsen twins crystal will have good luck for the rest of their lives.