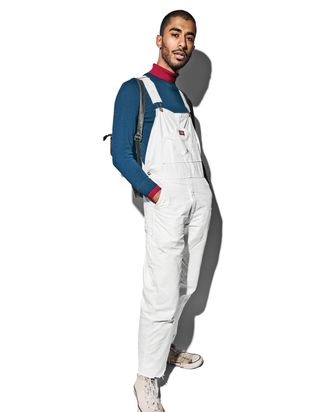 "I feel like I am dating New York City right now."
Photo: Bobby Doherty/New York Magazine
Auden Alblooshi, recent college graduate
What are you up to today?
I actually just moved a few days ago, so I've been unpacking boxes and decorating. I moved to East Williamsburg, the hippest part of Brooklyn, allegedly, with my roommate, Adam. I'm a Libra, and he's a Taurus; we're both ruled by Venus, so we're great roommates. I'm really into astrology.
Have you always been?
No, I was raised near Abu Dhabi in a really conservative Muslim family — if I missed one prayer, my dad would think there was a demon inside of me who had to be exorcised.
Are you in touch with your parents?
No, I haven't spoken to them in about five or six years. I went to boarding school in England, where I was exposed to all different kinds of people, and I ended up coming out to my father. He kicked me out of the house. He drove me home from school and told me I had 30 minutes to pack everything and leave. He sent me to military school and then I went to NYU Abu Dhabi, did a study abroad here in New York, and never left. It's funny talking about this because my parents have tried reaching out to me, and yesterday, actually, I sent my dad a long letter explaining all the reasons why we couldn't be in touch. It feels cathartic, like the start of something … like the rest of my actual life.
Lightning Round
Age: 22.
Overalls: "They're from Dickies and were given to me by my friend Spencer."
Job prospects: "I'm waiting for my work authorization — my OPT — to come through, but I just applied to 80 jobs."
Relationship status: "I feel like I am dating New York City right now. I do have a couple boys I'm talking to, but nothing serious."
*This article appears in the February 19, 2018, issue of New York Magazine.