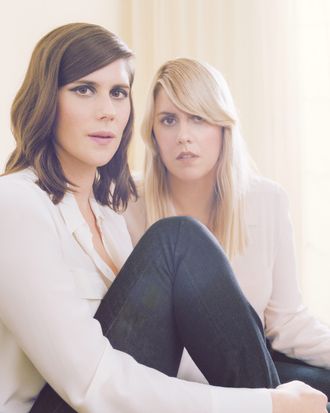 For their fall 2018 collection, Laura and Kate Mulleavy went rogue, presenting a lookbook and private appointments in Paris in lieu of a runway show. The book is filled with stunning Autumn de Wilde portraits of their celebrity friends and muses including a very pregnant Kirsten Dunst, Miranda July, Kim Gordon, Rowan Blanchard, and Tessa Thompson. The idea came about while the sisters were carpooling to work. "We wanted to celebrate the idea of womanhood, and the different artistic people that have inspired us," Laura Mulleavy explained. "It felt like a celebration of people that make such amazing art, and [a way of] saying thank you for doing that."
The inclusion of some of their famous creative partners makes sense; art and film are a huge part of Rodarte's DNA (they did the ballet costumes for the 2010 movie Black Swan). The Mulleavy sisters' earliest fashion memories include watching Hitchcock films with their mother and being in awe of their opera-singer grandma's stage costumes. Both sisters attended UC Berkeley — Laura studied English and Kate studied art history. Their artsy perspective translated seamlessly into ethereal, darkly romantic pieces, and was an instant hit from the time they showed their first collection in 2005. Their work will soon be the subject of a major exhibition this fall at the National Museum for Women in the Arts in Washington, D.C.
Laura hopes the dialogue taking place in Hollywood around supporting female directors will trickle over to her industry as well. "I would say the same discussion needs to happen within fashion. Who's being hired for jobs in higher positions based on talent alone? It's very interesting the discrepancy that exists there. Hopefully our industry can start to correct itself too. Now is the time."
Below, Laura Mulleavy spoke to the Cut on behalf of Rodarte, about everything from her and Kate's favorite nail color to the Amazon show they couldn't stop watching. Read on for the full Q&A.
How do you thank people for a gift?
A handwritten note. We have beautiful Rodarte stationery. But if I don't use that, we have Cartier stationery that's personalized.
Color or no color on your nails?
I tend to wear a pastel color if I'm going to get my nails done, and Kate will wear a pastel color too mostly. [We especially like] Morgan Taylor's Adorned in Diamonds and Coming Up Roses.
What are five coffee-table books you'd be proud to display?
Taschen did the National Geographic: Around the World in 125 Years three-volume series, which I think is really cool. Then, another one that's big — I love that I'm like, 'coffee table equals big' — is a beautiful Francis Bacon book, and I love Eva Hesse, John Baldessari, and Catherine Opie. Then any book by Nan Goldin.
Heels or flats?
Flats. I love the Chanel flats that are two tones with the black tip. I would also pick the Ferragamo bow flats. I think Kate would pick either of those.
Do you two share clothes?
You know, we don't, but sometimes if it's an extravagant Rodarte thing, we'll share it. This season we got this really cool floral cape, and we were like, 'Oh, we'll probably not wear it very much, so why don't we just share one?' That might be for outerwear, but not really for clothes.
What would you never wear?
Never say never in fashion — you always change your mind.
No-makeup makeup, or actually no makeup?
I like to wear a lot of eye makeup, but we don't wear heavy skin makeup. I use a frosted charcoal eye shadow, and you can get it from different people like Nars or Chanel depending. I also like Nars Lysithea Dual Intensity eye shadow in Shimmering Pewter. Kate uses the New York Single eye shadow from Nars — it's really pretty.
What's the secret to throwing a good party?
A really good playlist that is fun to dance to, and too much food.
What's your guilty pleasure?
Our favorite hotel in Santa Barbara. It's called San Ysidro Ranch, it's just so fancy and luxurious.
What are your favorite accounts to follow on Instagram?
Miranda July is really funny, she actually has the best Instagram, because it's like her art, and her form of expression works so well in that medium. I also love Stephen Shore, the photographer. Then the Criterion Collection is really good.
What's the last show that you binge watched?
The Marvelous Mrs. Maisel. We love the production design, and the costumes — so fun. The actress [Rachel Brosnahan] is amazing.
What's your favorite …
Pair of jeans?
I would say anything old Levi's — vintage Levi's.
T-shirt?
I have this great vintage E.T. shirt that Kate gave me that I love. Kate loves concert tees, she recently got a rare vintage Pink Floyd shirt, a really beautiful one.
Pajamas?
We have these amazing Brooks Brothers pajamas, they're actually men's pajamas, and they're white with navy piping. But then we also get Lanz flannel pajamas; they're something that our mom used to give us when we were younger.
Flower?
Can we say all flowers? We love anything arranged by Los Angeles florist Joseph Free.
Chocolate?
Oh, See's Candies. That's the California in us. Another one that we love is called Teuscher, a friend introduced us to it, and they make these Dom Perignon Champagne truffles that are so amazing.
Fragrance?
Well, that should be the fragrance that we'll eventually make for Rodarte. It's not [in the works yet], but I think it should be, so I'm saying it. Or I would say floral scents — anything floral we love.
Sheets/linens?
I like this linen company called Schweitzer, and it's in Switzerland. They're floral embroidery, or different embroideries. Usually like a pastel, they're so pretty. Kate likes those too.
Lip balm?
Currently I use the Malin + Goetz one. Kate might say Kiehl's.
If you buy something through our links, New York may earn an affiliate commission.