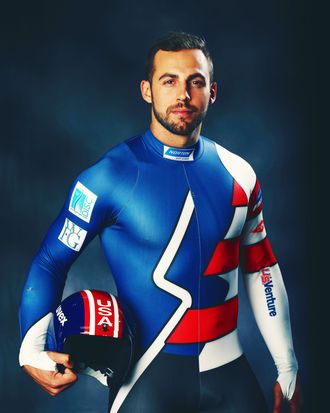 Chris Mazdzer.
Photo: Ezra Shaw/Getty Images
It was only a matter of time before the internet christened its official Winter Olympics Boyfriend, a title that was awarded just a few days into the Games to Chris Mazdzer, U.S. luger and verified dreamboat. While the 29-year-old recently earned a historic silver medal in men's singles luge — the first in U.S. history — everyone online seems to be occupied with Mazdzer's other features, like the way he's holding this fluffy dog:
But Mazdzer is so much more than a handsome, puppy-snuggling Olympian. Below, some of the reasons he's the internet's new boyfriend.
First thing's first: He really does love animals.
#hotdudeswithdogs and #babygoat.
He'd share his fancy pastries with you.
Pastries — this is important.
He's endearingly basic.
In a time where seemingly every man is attempting to prove — often disingenuously — that they're unlike the rest of their male counterparts, you have to have respect for the shamelessly basic boys still posting #nofilter sunset pics and selfies with deep captions.
He really likes to jump in miserably cold water.
Write this off as one of those crazy Olympian practices that us normal folk can't understand.
His pop culture faves are your guilty pleasures.
In an interview with Entertainment Weekly, Mazdzer proudly admitted to enjoying some of your favorite guilty pleasures: Brandi Carlile, The Unbearable Lightness of Being by Milan Kundera, and This Is Us.