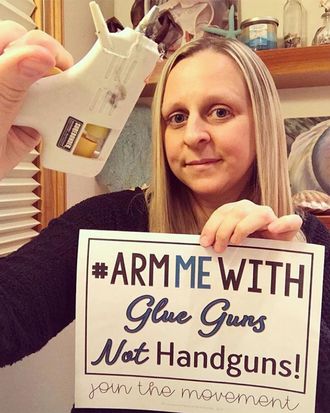 Instagram user @glittermeetsglue.
Photo: @glittermeetsglue/Instagram
During yesterday's listening session at the White House, President Trump suggested arming students, clarifying today that he'd like some "adept" teachers to be armed.
In response, teachers, uniting around the hashtag, #ArmMeWith, are pushing back and sharing what they'd like to be "armed with" — things like "books" and "school supplies."
Brittany Wheaton of Utah and Olivia Bertels of Kansas started the effort according to BuzzFeed News. After the shooting at Stoneman Douglas in which 17 students were killed, the educators turned to social media.
"It was time for teachers to demand their voices be heard," Wheaton told BuzzFeed News.
From smaller class sizes to mental-health services — below are some of the tools teachers around the country say they want and need in their classrooms.
"Enough funding to truly support my students." @TheDaringEnglishTeacher
"Pencils, paper, glue."
@Healthyteacher
"Time and resources to truly address the social and emotional needs of each of my students." @Miss5th
"Peace of Mind." @Katmusic1
"Glue guns not hand guns." @GlitterMeetsGlue