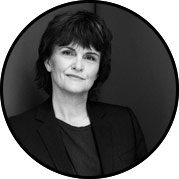 Last night, as guests were flowing out of the Tom Ford show at the Armory on Park, a woman in a fur coat and heavy eyeliner pushed her away across traffic to meet a friend.
"That was amazing!" she shouted. "That was amazing!"
Ford's entire show had consisted of stretch pants reworked in a variety of slutty metallics, some puffy jackets or bright patchwork furs, a modified sweatshirt in a shimmery fabric, and some frothy evening slips paired with matching animal-print stockings. There were a few dark pantsuits you could wear to a serious meeting, but otherwise Ford's fall collection looked like the craft department at a Walmart had exploded.
But it was amazing.
All the elements of the Ford oeuvre came together with a bang this time. Sex appeal with just a touch of comic-book Beverly Hills trashiness. Glitz. Uh-my-gawd. Killer! Fabulous coats — there is absolutely no one in the business better at infusing '70s glam into the cut and styling of a jacket or coat without it reeking of nostalgia. Another trademark Fordian stroke is timing: All those stretch pants (and some cozy catsuits in the evening portion of the show) confirm that women want to be comfortable, and still prefer pants over skirts.
But what really tickled me about this show was Ford's sense of humor. I've never really thought of him as a funny guy. He's so serious, so hard-working and determined to get things absolutely perfect, that he never seems chill enough to be humorous. But I found this collection to be very light and playful, a riff on the modern Beverly Hills babe, with her ratty, headband-wrapped hair and spandex-sheathed body.
Politically, the collection is subtly in tune with the times. Although it makes no explicit references to #MeToo and #Time'sUp, it is juicy with color and female pleasure. Yet because the models mostly wore pants and bubbly coats — the uniform of shopping and lunch — they didn't seem objectified. Ford is too smart for that, and has too many female friends. Nonetheless, the clothes — the color, the glitz, the spandex — were an assertion, without the cant, that no one treads on a woman's right to decide what she puts on her body.
It takes a lot right now to move the needle in fashion. Stores are struggling to attract consumers. The New York shows are a mess — there are too many nothingburger collections, and more big-name brands, like Alexander Wang and Rag & Bone, are either skipping shows or moving off the calendar. Meanwhile, young designers are often earnestly pushing craft — which is great — or "real women," as the label PH5 did yesterday, but they lack a big-picture view of what is required to actually build a sustainable business. (Think lifestyle.)
All these reasons, and a few personal ones, are why Narciso Rodriguez decided to hold a small salon-style presentation in his showroom before roughly 25 reporters and key retailers. Like Ford, Rodriguez has a great sense of timing. He shifted from his sexy, often close-fitting dresses to simple, beautiful styles in crisp black cotton or camel wool with either a generous cap sleeve or a rounded one. The round shape ran through the collection. A black-and-white cropped jacket was cut on the round, and actually it seemed more like a sporty top. It was paired with dark olive stretch wool pants — the perfect city uniform.
The sleeves of a persimmon-red coat were also full and round. Rodriguez said he had visited the recent Dior exhibit in Paris, and also the new Saint Laurent museum, and some of those Dior volumes gave him some ideas. The test, he said, was how to make the shapes look new without the whiff of nostalgia. Looking at the coat, so generous at the back and so clean and uncomplicated in front, I would say he succeeded.