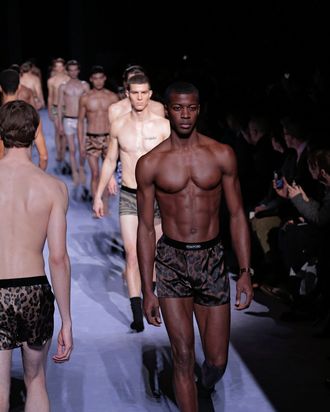 Tom Ford men's fall 2018.
Photo: Randy Brooke/WireImage
One might be surprised to learn that Tom Ford — fashion's patron saint of "sex sells" — has never sold underwear before. But one might be even more surprised to learn that his first foray into underwear involved pairing them with socks.
On Tuesday night, the 56-year old designer brought his menswear show to New York for its first stand-alone show at the Park Avenue Armory. (Tom Ford womenswear will show in the same venue on Thursday.) The air smelled of Tobacco Vanille and the runway consisted of a pastel purple carpet. Front-row guests, including the Daily Show host Trevor Noah, were anticipating an evening of luxury — not necessarily luxury underwear — but welcomed it all, nonetheless.
"[Tom Ford] is a look that always feels like it has a certain level of panache," said Noah, who wore a patterned teal suit jacket to his first-ever runway show by the designer. "You feel it in everything."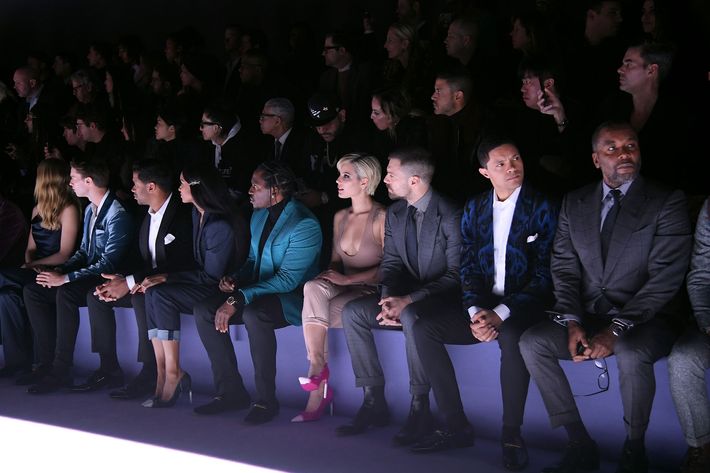 Clearly, Noah did his research. Panache oozed from head to toe in this collection, with Ford injecting some of his old-school glamour into more youth-oriented pieces, like a python-print puffer jacket or a suede loafer-sneaker hybrid, which only the Tom Ford man could pull off.
Even the panties had panache. Some featured zebra and cheetah patterns on silk; others were metallic with a velvet waistband. In addition to these flashier pairs, Ford also showed underwear in seven different skin tones, which gave the wearer the appearance of being nude.
"I'll be honest, what I look for in a pair of underwear is something that keeps everything together, but at the same time, doesn't look like you're trying to bulge out of yourself," said Noah, choosing his words carefully. "So, as close to a second skin as possible, without looking awkward."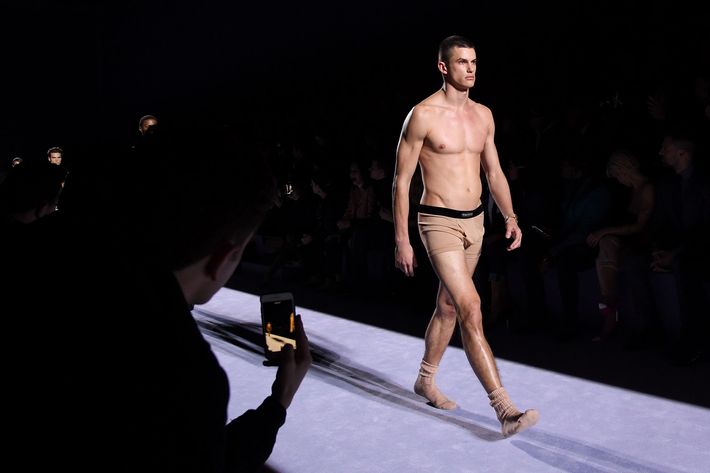 The rapper 21 Savage, who was seated front row next to entertainment scions Cordell Broadus (Snoop Dogg's son) and Hopper Jack Penn, (Sean Penn's son), said he preferred his suits "skinny" but his underwear "comfortable." Lucky for him, Tom Ford underwear is lined with cotton.
Cameron Dallas, a 23-year-old YouTube heartthrob, said he likes to "switch it up," when it comes to underwear. "Sometimes I want everything together, and sometimes I go for loose boxers," he said. What was he wearing right that minute? "I'm free-ballin' it," Dallas said with a smirk. Followed by, "No, I'm just kidding."
As for Tom Ford's socks, no one seemed offended by their presence on the runway, despite the look's cultural taboo. Studies actually show that sex with your socks on is better for everyone, since it increases your blood flow. But Tom Ford doesn't need science to sell us anything, especially not sex.