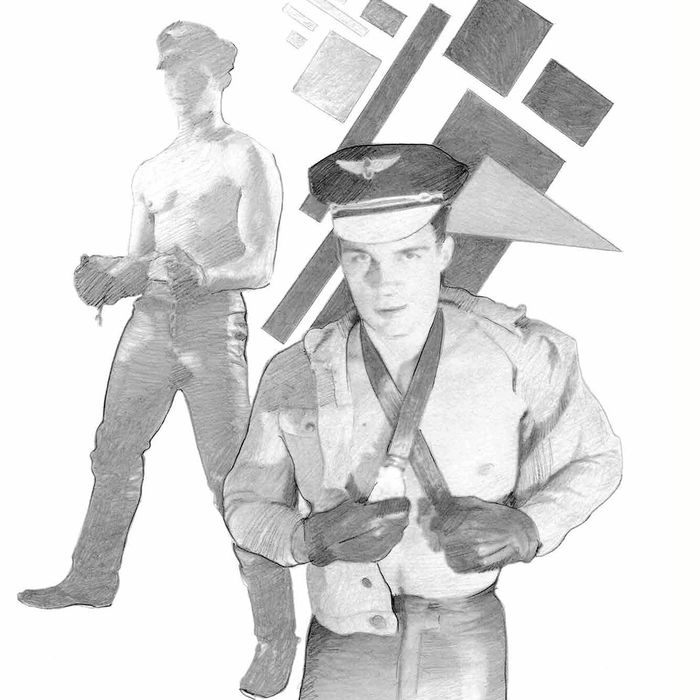 Artist Silvia Prada's drawings (left), and Tom of Finland's archives.
By day, Touko Valio Laaksonen was a corporate advertiser in Helsinki, Finland. By night, he was Tom of Finland, a revolutionary artist whose drawings of hypermasculine men brought gay pornographic images into the mainstream in the 1960s and '70s. Almost 70 years after he started his career, the new book TOM, by artist Silvia Prada, re-illustrates his work and archive through her eyes.
Each page juxtaposes Finland's work or scrapbooks with Prada's delicate graphite sketches. Prada was the first woman to be given unlimited access to Finland's archives through the Tom of Finland Foundation, which has managed Finland's archives and maintained an art gallery in Los Angeles since 1984.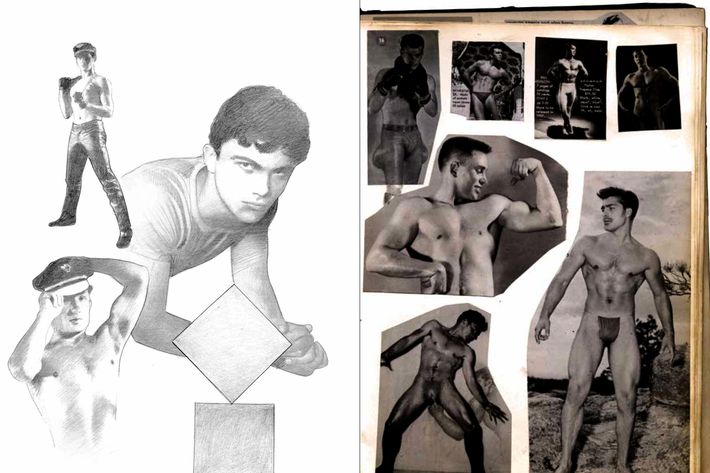 Finland began his career in the 1950s by submitting illustrations to American magazines, at a time when male nudity was censored in the U.S. He sent drawings of well-endowed, muscular men — often in uniform — under the pseudonym "Tom." One editor added "of Finland" to his byline, and the nom de plume was born.
Finland cultivated many photo scrapbooks (his archives) and re-created them as pencil drawings — gay fantasies that became part of the beefcake genre put forth by other photographers, including his friend Robert Mapplethorpe. His early work featured macho-bikers in leather jackets, which challenged public perceptions of gay men as weak at the time. The drawings continued to face adversity due to discriminatory U.S. state anti-sodomy laws prohibiting sex between men in the '60s and '70s. After male nudity was decriminalized in the latter decade, Finland gained popularity with a mainstream U.S. audience and quit his day job as an advertiser.
Now Finland is remembered as a key figure in gay culture in the 20th century, though controversial. Critics have said his fetishization of men in uniform — including policemen, sailors, and cops — included problematic depictions of erotic men in Nazi uniforms and hypersexualized black men. Others who support Finland have noted that he often drew interracial partners in his artwork, and that he was influenced by his experience in the Second World War, where the Finns fought on the side of the Nazis.
For some closeted men at the time, Finland's artwork may have provided the only connection to their sexuality. The artist embraced this sentiment, saying in 1990, "My drawings are primarily meant for guys who may have experienced misunderstanding and oppression and feel that they have somehow failed in their lives. … I want to encourage this minority group, to tell them not to give up, to think positively about their act and whole being."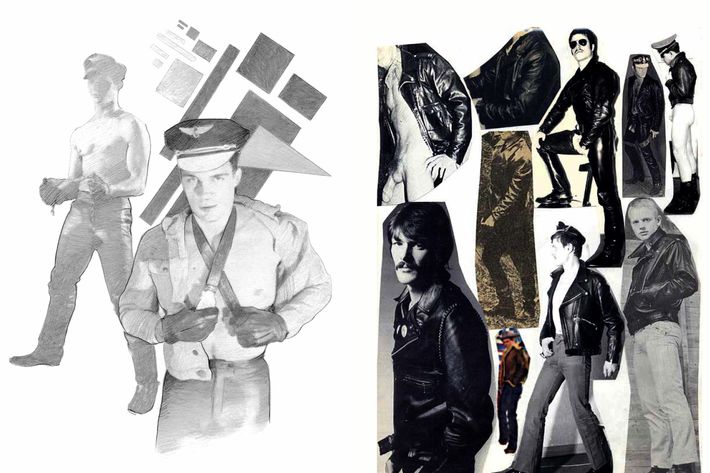 Prada, on the other hand, is known for her pop-art sketches of celebrities. She says she became "obsessed" with Finland after reading about him in one of Andy Warhol's editions of Interview magazine. Like Finland, she works a lot in pencil and draws photo-realistic images of icons, which is one reason why the Tom of Finland Foundation reached out to Prada to make the new book.
In her drawings for TOM, Prada wanted to pay homage to the difficulties of being a gay man at the height of Finland's fame in the mid-20th century, but also approach it with her own femininity. "All the gay culture we can never forget," she says. "We need to be more aware of that time when the struggle of being a gay man was part of the art. I think the female perspective comes through in a way that's more emotional and erotic than sexual. It's also a little bit chic."
TOM by Silvia Prada is available at the Tom of Finland online store.