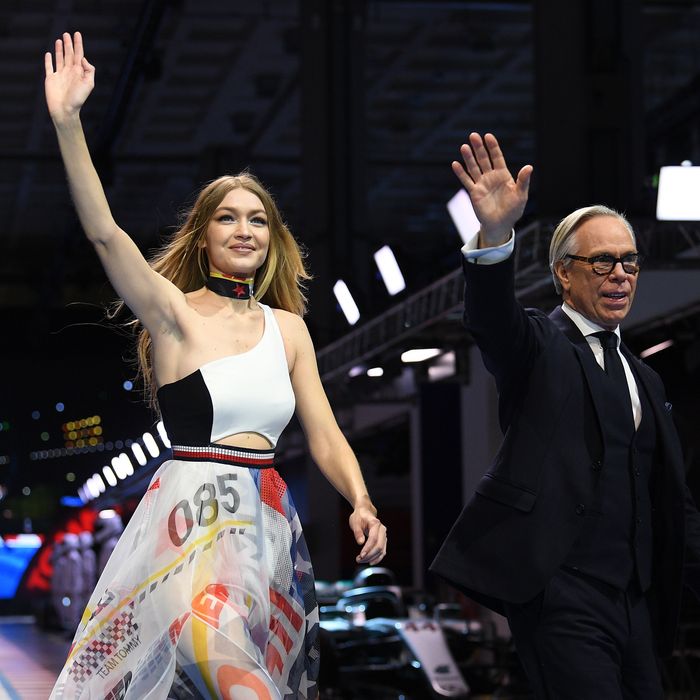 Gigi Hadid and Tommy Hilfiger.
Photo: Getty Images
The last stop on Tommy Hilfiger and Gigi Hadid's fashion week world tour, which began in New York and continued in Los Angeles and then London, ended with a bang on Sunday night in Milan, Italy. Not a bang, actually — more like a vroom vroom.
The theme of the show was "motorsport" — on trend, but unaffiliated with the recent Migos single of the same name. Instead of a traditional runway, models walked a long blue racetrack with Formula One–model cars parked in the middle.
Tommy Hilfiger loves a good theme, and seeing that Italy is the birthplace of luxury sports car brands like Alfa Romeo, Ferrari, Lamborghini, and Maserati, motorsport was a fitting choice for his first show in Milan. In this city, every Uber diver wears an impeccably tailored suit.
The see-now-buy-now collection maintained Tommy Hilfiger's signature red, white, and blue theme as well, plus racing stripes this season. Gigi Hadid opened the show in a well-fitted pair of leather racing pants, followed by her sister, Bella, and their younger brother, Anwar. Their peers Cameron Dallas, Luka Sabbat, and Anais Gallagher sat front row, alongside the actual Formula One driver, Lewis Hamilton.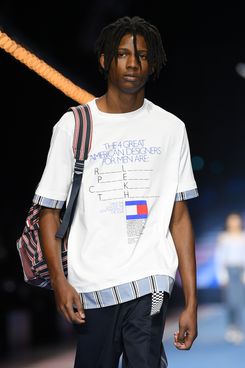 Some spring 2018 pieces like leggings, hoodies, and accessories were already being sold in booths at the show. Naturally, they flew off the shelves. Some of my favorites were a see-through black jumpsuit worn with biking shorts underneath; a logo-tastic pair of jeans with a throwback feel; plus a men's T-shirt bearing the brand's now-legendary George Lois billboard campaign, in which Hilfiger's name is listed under other designer's names including Ralph Lauren, Perry Ellis, and Calvin Klein.
This shirt was a poignant reminder that Hilfiger has never done anything on a small scale, and always with respectable bravado. First, he inserted himself in the canon of great American designers. Now, he's showing alongside names like Giorgio Armani. The question now is: what (and who) are next?