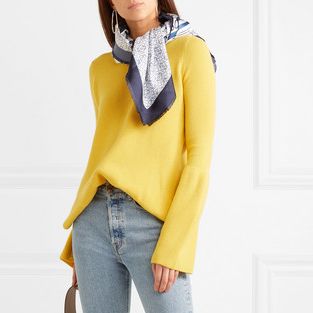 As far as sustainable fashion goes, Stella McCartney is the gold standard. Whatever Supreme is to teen boys hanging out at Howard and Mercer, Stella McCartney is to me.
I'm in the midst of a fast-fashion-free year, where I'm buying very few items and only ones that are sustainably made. The "very few" part is mostly to reduce my consumption, but also because an unfortunate hallmark of sustainable clothing is an astronomical price tag. In lieu of refreshing Zara's homepage to find new steals, I'm refreshing the Stella McCartney hub on net-a-porter. That's how I fell in love with this sweater. And, yes, it costs $750. But hear me out.
The sunny buttercup yellow color makes me think of ducklings, and I'm partial to any sweater that conjures up an image of a baby animal. Somehow, it makes it look softer. And unlike a standard crew neck, it has very slight bell sleeves which provide just enough flair to make it really, style-wise, past one season.
In an effort to justify the cost, I put it in terms of fast fashion sweaters I would buy instead. It's seven and a half J.Crew cashmere crew necks, and yes, you could buy close to 40 standard Zara sweaters for the same price. But this buttery soft, sunshine-y sweater will last at least five years, which is about 40 fast-fashion life spans. And if it's impossible to swing at full price, it's the perfect thing to buy at an end-of-season sale.
If you buy something through our links, New York may earn an affiliate commission.