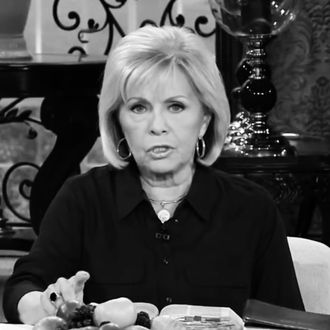 Gloria Copeland.
Photo: Courtesy of YouTube/RWW Blog
In the midst of a particularly deadly flu season, an evangelical Trump adviser released a video claiming that you don't need a flu shot … because Jesus already gave us one. (Hey, gotta keep that sermon content topical.)
This, uh, questionable public-health advice comes from one Gloria Copeland. She and husband Kenneth Copeland, co-founders of Kenneth Copeland Ministries, are members of Trump's Evangelical Executive Advisory Board, which was unveiled by the Trump campaign back in June 2016.
Copeland posted her musings on the flu on her Facebook page last week, where it was discovered by Right Wing Watch.
"We don't have a flu season and don't receive it when somebody threatens you with 'everybody's getting the flu.' We've already had our shot, He bore our sicknesses and carried our diseases," she says, before praying for anyone who already has the flu.
"I'm asking you Lord by your supernatural power to heal them now from the top of their head to the soles of their feet," Copeland then prays. "Jesus himself gave us the flu shot. He redeemed us from the curse of flu."
Ah yes, who could forget the famous part of the Bible where Jesus gave 5,000 people bread, fish, and their annual flu shot.