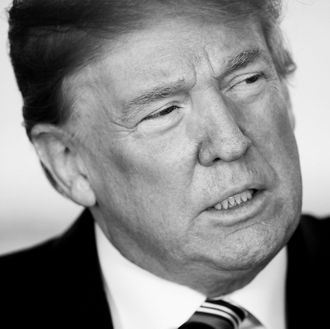 Donald Trump.
Photo: Win McNamee/Getty Images
Ever since a gunman killed 17 people at Marjory Stoneman Douglas High School in Florida last week, there's been a renewed vigor in the fight to end senseless gun violence and enact stricter gun control. Meanwhile, the president is … tweeting compliments about the National Rifle Association.
On Thursday, he called the gun right advocacy group "Great People and Great American Patriots" who "love our Country and will do the right thing" in a tweet. He added, "MAKE AMERICA GREAT AGAIN!"
Earlier in the morning, he sent out several tweets — first accusing "Fake News" outlets of falsely reporting that he wanted to give teachers guns, and then writing that he did in fact want to give teachers guns.
Just a day prior, the president held a listening session with various people affected by Stoneman and several previous mass shootings where he carried notes that reminded him to say "I hear you."