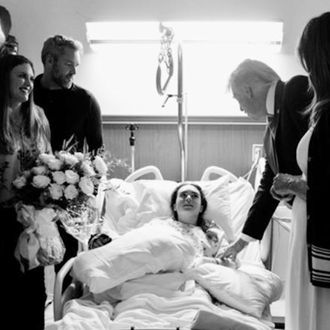 The photo used in the email.
Photo: Courtesy of The White House
The Trump reelection campaign sent out an email blast on Saturday in which they used a photo of a Stoneman Douglas school shooting survivor and solicited donations, CNN reports.
The photo in question is of 17-year-old Madeleine Wilford and family being visited by the president and First Lady on February 16. The email also includes a button asking for contributions for the campaign.
"Trump is taking steps toward banning gun bump stocks and strengthening background checks for gun purchasers," the text reads. "The President has made his intent very clear: 'making our schools and our children safer will be our top priority.'" It did not appear to include his repeated insistence on arming teachers.