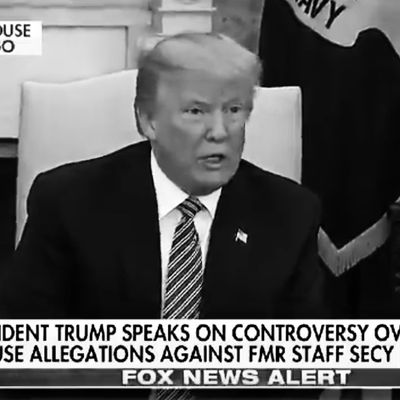 Donald Trump.
Photo: Courtesy of Fox News
Earlier this week, White House staff secretary Rob Porter abruptly resigned amid reports that he had physically and emotionally abused two of his ex-wives. When asked about Porter's resignation on Friday, Trump praised his former aide's work, and made a point to highlight Porter's self-proclaimed innocence. According to tweets from Fox News producer Pat Ward, the president told reporters:
We wish him well, he worked very hard. We found out about it recently and I was surprised by it, but we certainly wish him well and it's a tough time for him. He did a very good job when he was in the White House. And we hope he has a wonderful career and he will have a great career ahead of him. But it was very sad when we heard about it and certainly he's also very sad now.




He also, as you probably know says he's innocent and I think you have to remember that. He said very strongly yesterday that he's innocent so you have to talk to him about that, but we absolutely wish him well, he did a very good job when he was at the White House.
While Trump may have nothing but good things to say about the alleged domestic abuser, he is reportedly frustrated by the fallout from the scandal — specifically with Hope Hicks, the White House communications director, and Rob Porter's rumored girlfriend. According to CNN, a source close to the president says he thinks Hicks's relationship with Porter has clouded her judgment, and that she is putting her own priorities ahead of his.
Watch a full clip of Trump's comments below …
… or just read this CNN chyron that sums them up nicely.