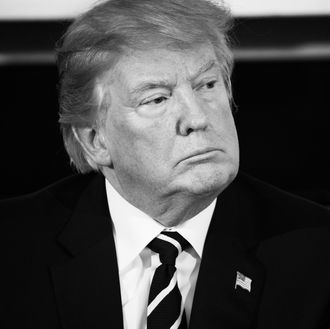 Donald Trump.
Photo: MANDEL NGAN/AFP/Getty Images
Since the Stoneman Douglas school shooting last week, President Donald Trump has held a listening session with school shooting victims, called the NRA "great people," and gone hard on the idea of arming teachers.
After tweeting angrily on Thursday morning about "fake news" misreporting the fact that he wants to give teachers guns, he then proceeded to outline how he wanted to give teachers guns. Later in the day, he reiterated his suggestions during a meeting at the White House — and even floated the idea of giving teachers who carry guns a financial bonus.
"They are not going to walk into a school if 20 percent of the teachers have guns. It may be 10 percent, it may be 40 percent," he said. "Now, what I'd recommend doing is the people that do carry, we give them a bonus. We give them a little bit of a bonus."
"We have to harden those schools, not soften them," he added.
Yes, what could possibly go wrong?