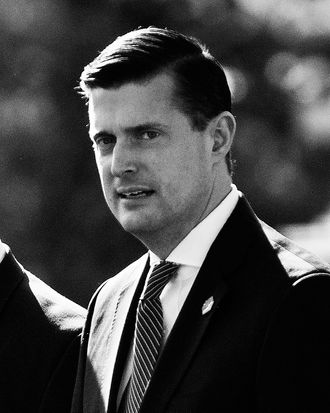 Rob Porter.
Photo: The Washington Post/The Washington Post/Getty Images
Another member of the Trump administration has abruptly resigned: Axios reports that White House Staff Secretary Rob Porter is out of the job after two ex-wives alleged that he had abused them.
On Monday, the Daily Mail published an interview with Porter's second wife, Jennifer Willoughby. In it, she provided extensive allegations of physical and emotional abuse. "I would not recommend anyone to date him or marry him," she also said. "But I definitely want him in the White House and the position he is in." Willoughby filed a protective order against Porter in 2010. (They were married from 2009-2013.)
The following day, White House press secretary Sarah Huckabee Sanders and Chief of Staff John Kelly both defended Porter against the allegations. Kelly in particular called him "a man of true integrity and honor" as well as "a friend, a confidante, and a trusted professional."
Then, on Wednesday, the Mail published their piece with Porter's first wife, Colbie Holderness. Along with similar allegations of physical and emotional abuse were photos provided by Holderness of her with a black eye — sustained, she says, when Porter punched her in the face.
Prior to this job, Porter worked as Senator Orrin Hatch's chief of staff. He was also rumored to be dating White House communications director Hope Hicks.
Update, 5:15 p.m.: Following Porter's resignation, CNN reported that in 2016, both of his ex-wives received messages from a woman who said she was his girlfriend. The messages described "repeated abuse." In a message to Willoughby, she called him "abusive, degrading, a liar and a cheater." To Holderness, she wrote, "I work in politics, and despite Rob's repeated abuse, some of which I think many know about, he continues to rise and I'm afraid to go against him."
Update, 5:40 p.m.: Per the Intercept, the FBI was told of Porter's abusive past before he was hired. "During the background interviews for Porter's security clearance related to his senior White House role, FBI agents interviewed the two women," they report. "The former wives told the FBI that Porter was abusive during their marriages, according to interviews with the women."