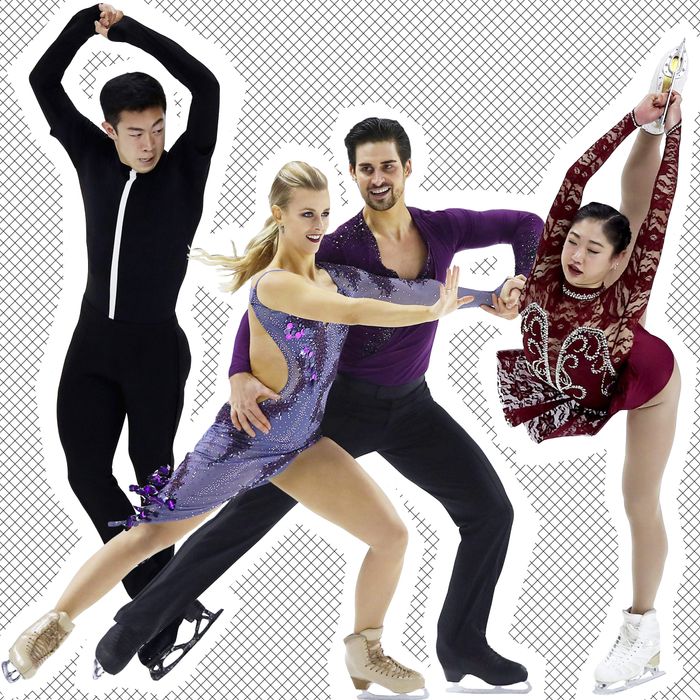 As the world prepares to cheer on their nation's best athletes at the 2018 Olympics in Pyeongchang, South Korea, we'll be focusing our attention on figure skating, the rare gem of a sport that truly has something for everyone: sparkly designer costumes, real athletic prowess, and enough campiness and drama to inspire an Oscar-nominated film. Before you tune into the competition next week, read on to learn a little bit about each figure skater and ice dancer on Team USA.
Bradie Tennell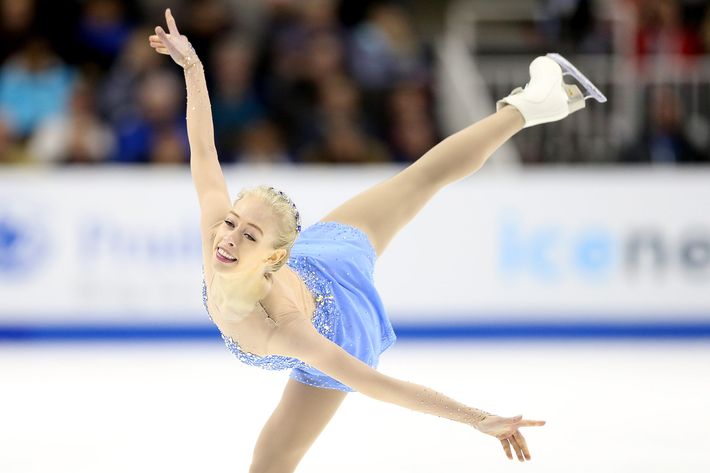 When her placement on Team USA was announced, 19-year-old Tennell, of Carpentersville, Illinois, was a "virtual unknown." She won the junior national figure-skating championship back in 2015, but a stress fracture in her back confined her to a back brace during the spring and summer of 2015 and 2016. She surprised everyone this year with her first-place victory at nationals, where she skated in a Cinderella costume to a medley of songs from the movie. Regarding her decision to use Cinderella as her theme, she told Team USA, "With all the struggles I've had in the past, I felt like this season was a good time to skate to this music." According to Cosmopolitan, her go-to mantra, which happens to be about falling, is also from the movie: "Dare if you want to. Don't fear you'll fall. Take a chance, 'cause it's better than never to chance it at all."
Mirai Nagasu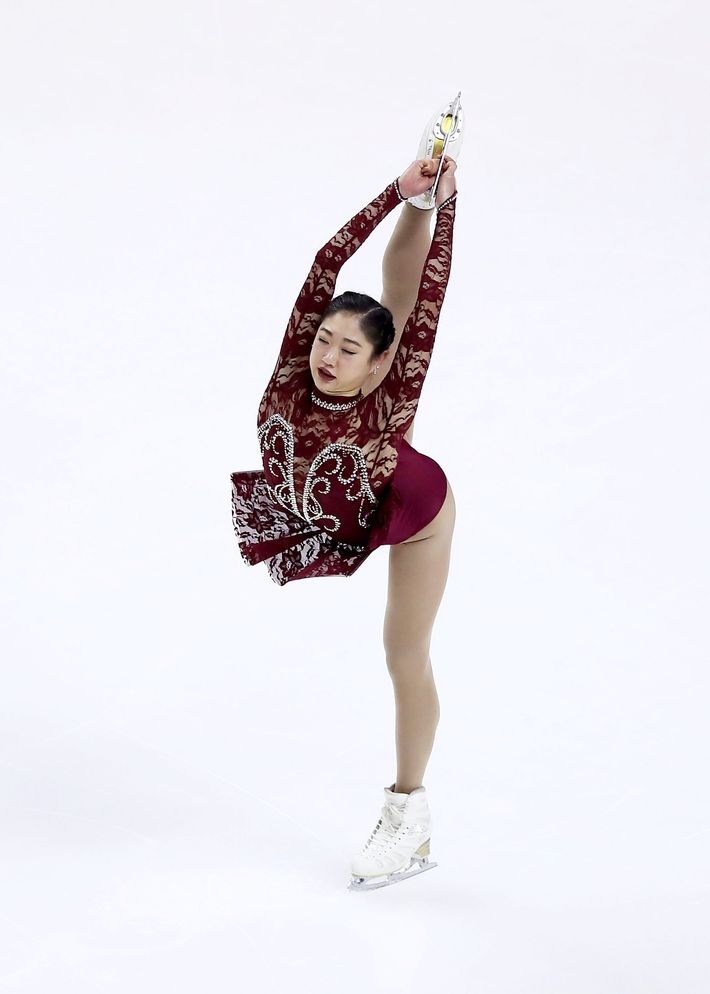 Nagasu, 24, of Arcadia, California, possesses the ability to do a triple axel, the most difficult of all the jumps. The New York Times predicts that if she can land it in South Korea this year, she could be the first American woman to win an Olympic figure-skating medal since Sasha Cohen won silver at the 2006 Olympics. Nagasu's career, however, hasn't been without drama: In 2014, she finished third at the U.S. national championships, but in a controversial decision by the judges, her spot on Team USA was given to the fourth-place winner, Ashley Wagner. Although she was extremely disappointed, she didn't let that setback deter her. "I am super happy with how things have gone," she told Team USA. "I think I really, really put in my vote for the Olympic team."
Karen Chen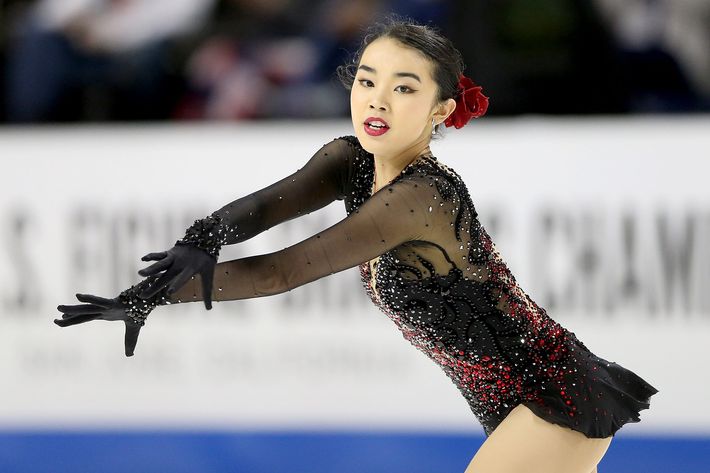 Chen, of Fremont, California, put herself on the figure-skating map in 2015 by becoming a bronze medalist at that year's nationals. Two years later, in 2017, the 18-year-old became the national champion, amassing even more attention. Now, she's earned herself a spot on Team USA by finishing third place at this year's nationals — all while battling the flu. When she found out she made the team, she nearly lost it. "I screamed. I jumped up. I was exhausted, too, but I had just enough energy to scream," Chen told the Washington Post. She also wrote a book called Finding the Edge about her life as a figure skater that includes a foreword by her mentor and Olympic figure skater Kristi Yamaguchi.
Nathan Chen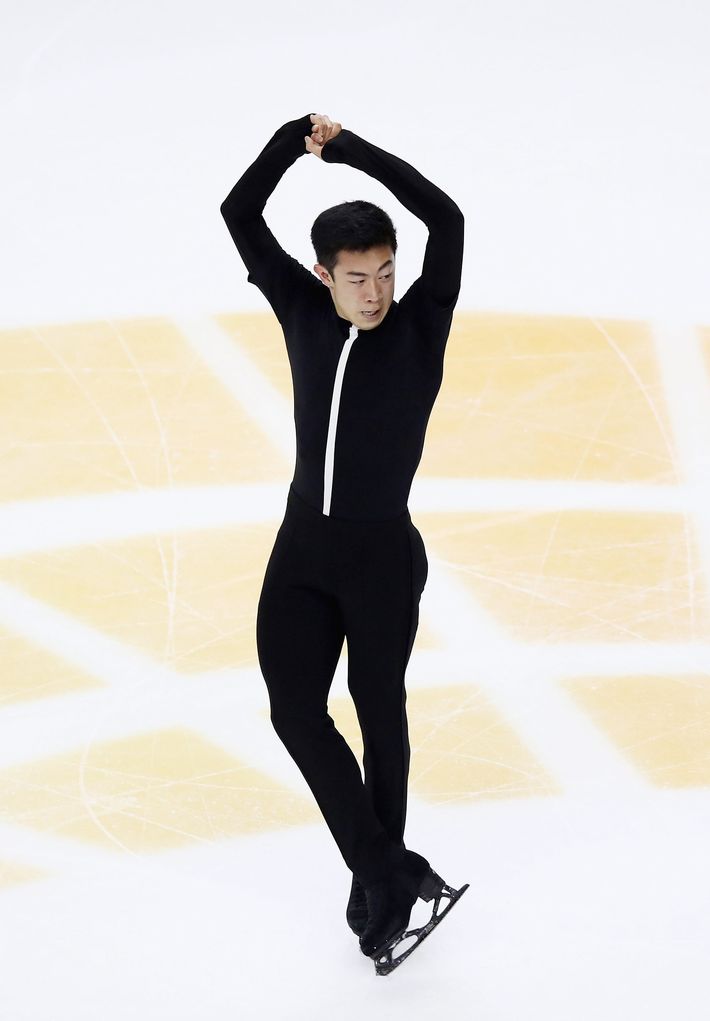 Chen, 18, of Salt Lake City, Utah, was called a "shoo-in" for Team USA by the New York Times. He's this year's men's figure skating national champion, upholding his first-place title from last year. He's also the first figure skater in the world to land five quadruple jumps in a single program, making him the only U.S. figure skater slated to win gold in South Korea this year. "Ultimately, this is the dream that I've wanted for a long, long time," he told the Salt Lake Tribune. "I really strived toward [it] my whole life. I've always wanted to know what it feels like to be on that Olympic team." Chen was also featured in a 60-second "Best of U.S." athlete commercial film, which aired during the Super Bowl.
Adam Rippon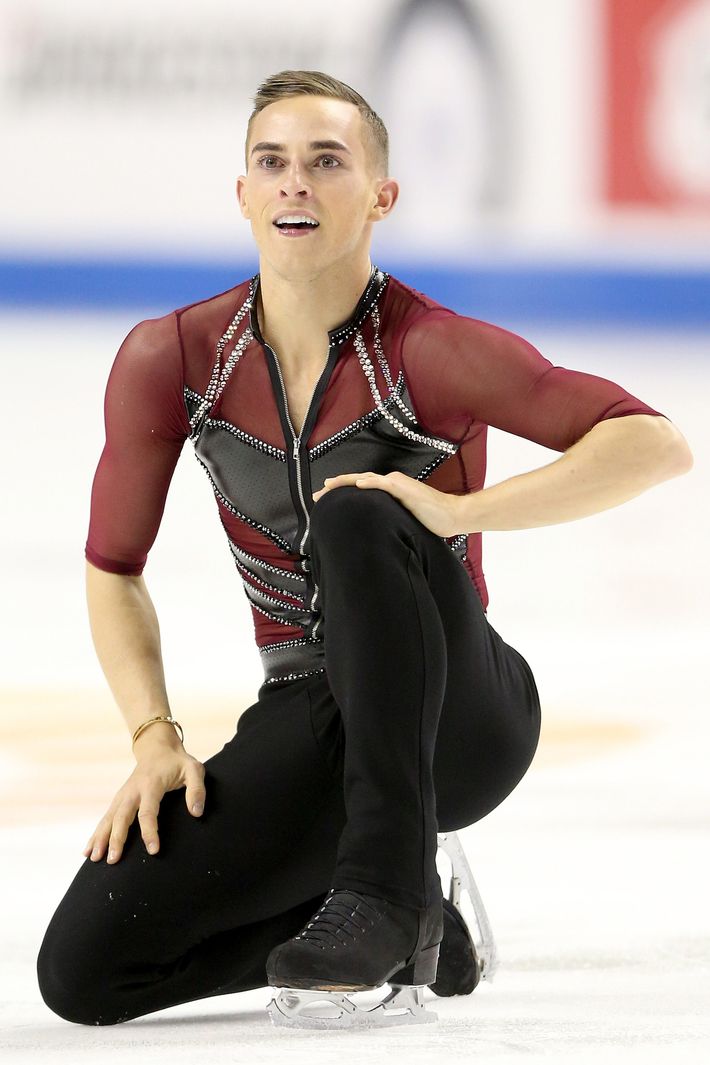 This 28-year-old Los Angeles native received fourth place at this year's figure-skating national championships. He's the first openly gay U.S. athlete to qualify for the Olympics, and is perhaps most well-known for his public hatred of Mike Pence because of Pence's alleged support of gay-conversion therapy. In fact, Rippon has stated that he refuses to meet Pence, who will lead the U.S. delegation at the Olympics, at the traditional meet and greet between the delegate and the athletes. Still, he's proud to represent the U.S. and won't be actively protesting. "I'm a U.S. athlete representing my country. I will continue to share my story, but I will participate in no form of protest," he told USA Today. "I have a lot of respect for this opportunity. What makes America great is that we're all so different. It's 2018 and being an openly gay man and an athlete, that is part of the face of America now."
Vincent Zhou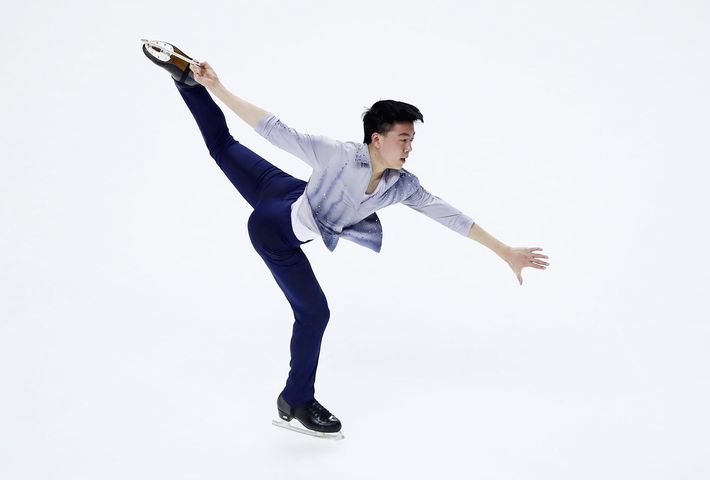 Zhou, of Palo Alto, California, won third place at this year's figure-skating national championships. Like Chen, the 17-year-old was a given for Team USA this year, according to the Washington Post. Previously, Zhou won second place at the 2017 national championships and was the first junior in history to land a quadruple jump. "There's a certain feeling that comes with the word Olympian, and it's really hard to describe," he told the Washington Post. "To have that attached to my name, it's more than I could ever ask for in my entire life." In Zhou's spare time, he likes to hike and write poetry, according to Cosmopolitan.
Alexa Scimeca-Knierim and Chris Knierim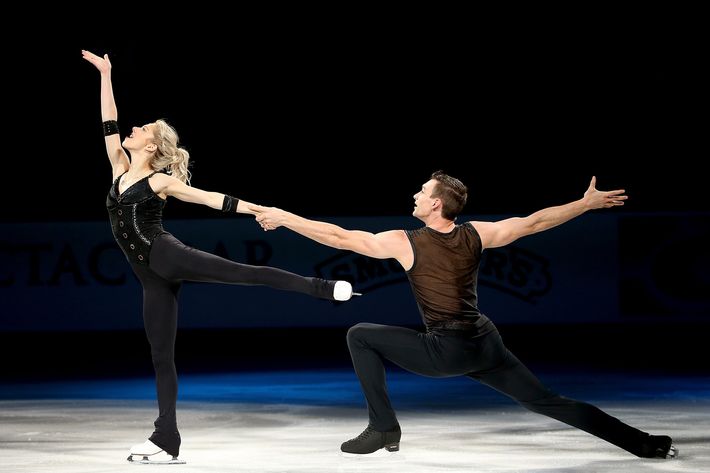 Alexa, 26, and Chris, 29, both from Colorado Springs, Colorado, are husband and wife and this year's figure-skating national champions. Although they won nationals in 2015, Scimeca-Knierim battled a horrific stomach illness that forced the pair to miss most of the 2016 season, but they returned to compete in 2017 at the ISU Four Continents Figure Skating Championships. Now, they're the first married pair from the U.S. to make the Olympic team since 1998, according to NBC. "This proves that everything I went through was so worth it," Scimeca-Knierim said at a press conference. "I'll never forget how hard we had to work to get back to the place that we are now."
Madison Chock and Evan Bates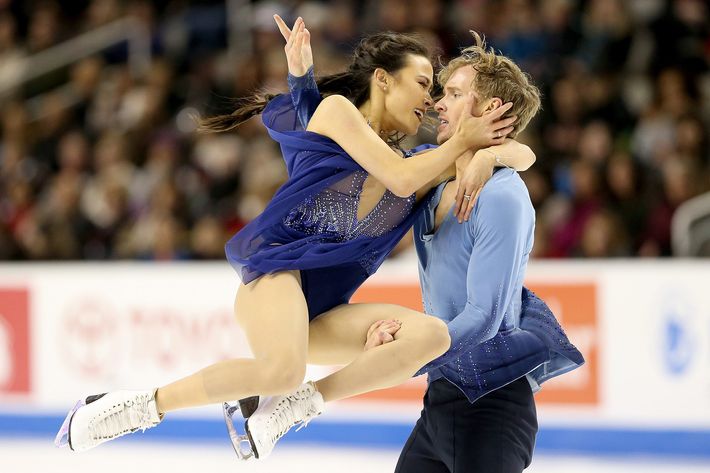 Chock, 25, and Bates, 28 are this year's ice-dancing national bronze medalists. Previously, the Michigan-based pair won nationals in 2015 and received a silver medal in 2017. They have been skating together since summer 2011, most of that time as friends, although they went on a first date ten years ago. But now, they are officially dating, and Chock told NBC their romantic relationship has only strengthened their relationship on the ice. "It feels completely genuine and real," she said. "It makes training so much more fun and it brings us closer together every day. We're working together, working towards the same things. When you're doing that with someone that you love, it really is so much more meaningful." Chock also designs all of her own skating costumes, including Bates's, according to Cosmopolitan.
Madison Hubbell and Zachary Donohue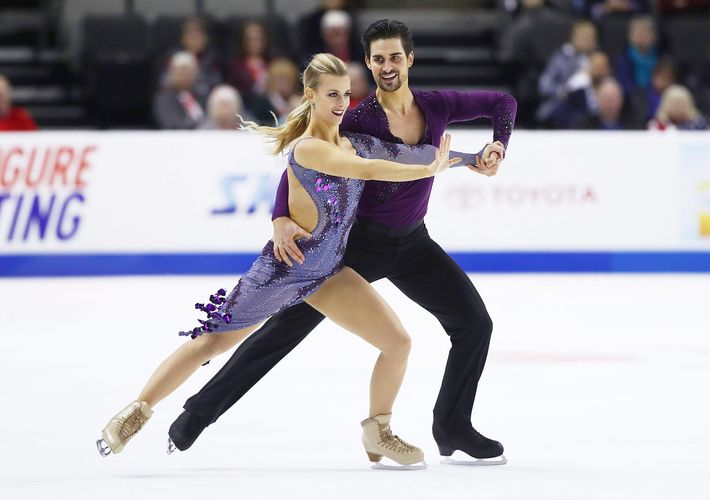 Hubbell, 24, from Okemos, Michigan, and Donohue, 27, from Madison, Connecticut, are this year's ice-dancing national champions. Over the past few years, the pair only received as high as third place at nationals, but this year — in their words — they "finally did it." They also dated for two-and-a-half years, but ultimately broke up because their personalities made being together all the time feel "explosive," according to Team USA's website. But Hubbell doesn't regret their relationship, and ultimately believes their breakup confirmed how much they love ice dancing. "When we broke up and put our focus on our career, the fact that we were able to very seamlessly commit to each other and not let that affect our skating, we realized how serious we both were about our goals and our passion, and I think that our relationship got better and even closer — just in a different way," she said.
Maia Shibutani and Alex Shibutani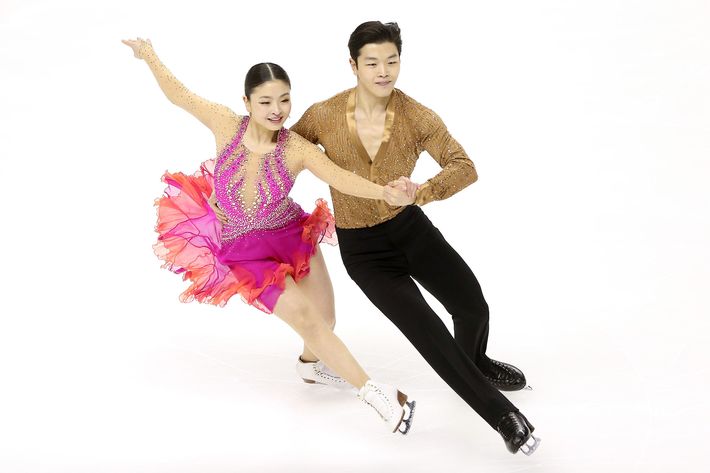 This brother-sister ice-dancing team, known as "ShibSibs," are this year's national silver medalists. They are also two-time national champions, placing first in 2017 and 2016. Twenty-three-year-old Maia was the first to get into skating and competed as a single before introducing 26-year-old Alex, who admits that at first he was "not that into skating," to the sport. They have been competing as a pair since the spring of 2004, and the fact that they don't default to romantic songs means they've been able to get creative with their programs. "I think a lot of our success comes from how close we are and the bond that we have," Alex told Reuters. "I think what we have is very unique."