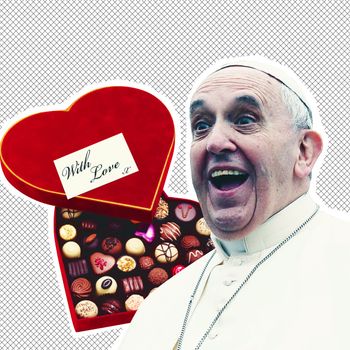 Chocolates, Pope Francis.
Photo: Getty Images
This Wednesday, February 14, marks Valentine's Day: A holiday for romantics to exchange gifts, eat an indulgent meal, and do sex to each other. However! It also marks Ash Wednesday: A holiday for Catholics to observe the start of Lent, typically fast all day, abstain from meat and whatever else they're giving up for the next 40 days, and probably not do sex.
Such a coincidence hasn't occurred since 1945, but there was no internet back then. Now, we are able to see devout Catholics who love Valentine's Day deal with this dilemma in real time — and church leaders remind them to suck it up.
From the New York Times, on Cardinal Timothy M. Dolan's reminder to Catholics to observe the holiday:
"Ash Wednesday has precedence, and the coincidence of St. Valentine's Day would not lift for us the duty of fasting and self-denial."
From the Hartford Courant, Archbishop Leonard P. Blair speaking:
"Ash Wednesday is very particular. St. Valentine's Day is not in the same real universal importance as Ash Wednesday. It's not the kind of day when we would give a dispensation."
From an article in the Buffalo News about a requested dispensation from Bishop Richard Malone, the diocese's director of lifelong faith formation Mary Beth Coates gave this perspective:
"The thing I hope we don't do is grumble, to complain that the church has ruined Valentine's Day. There's joy in Ash Wednesday. There's joy in Lent. It's not just the purging the souls of our sins, though there's an element of that. I don't want us to be mad that the church has ruined Valentine's Day.
And from Twitter:
In related news, April Fools' Day and Easter Sunday are also on the same day this year. We're awaiting Pope Francis's comments on whether or not pranking is still allowed.