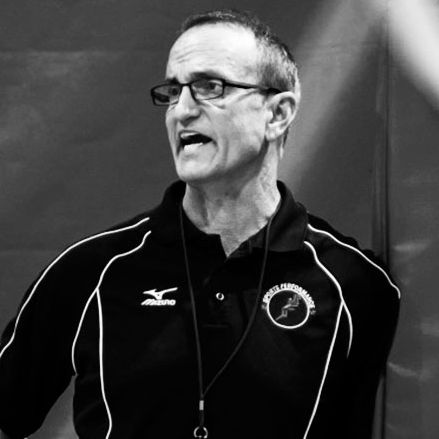 Rick Butler.
Photo: STACIE SCOTT/Sun-Times Media
Illinois volleyball coach Rick Butler, who was once considered the "most powerful coach in youth volleyball," is accused in a new class-action lawsuit of raping at least six underage girls "hundreds" of times. His wife, Cheryl, allegedly helped him cover up the sexual assault by threatening and pressuring his victims, the lawsuit claims.
As first reported by the Chicago Sun-Times, the new federal lawsuit names Butler, his wife, and the Sports Performance Volleyball Club in Aurora, Illinois, as defendants. Filed on Tuesday by Laura Mullen, the mother of one of Butler's alleged victims, the lawsuit claims the Butlers deceived parents and young athletes to get them to join the volleyball club, only to have the coach use "his position of power to sexually abuse no fewer than six underage teenage girls."
The suit names Sarah Powers-Barnhard, Julie Romias, Christine Tuzi and Beth Rose as several of Butler's victims. Butler, whom the lawsuit claims has a "special relationship with Michigan State University" (the same institution that previously employed disgraced former USA Gymnastics doctor Larry Nassar), reportedly repeatedly assaulted the girls. Each of the teens were rising stars in his volleyball program.
With one girl, Butler allegedly raped her while she was in the shower — only to go on to assault her more than 40 times. The Daily Beast notes that Butler allegedly raped Tuzi "hundreds" of times, drove her to an abortion clinic after impregnating her, and forced her to masturbate him following the procedure. He also allegedly bragged to his victims about how much the other girls enjoyed the assaults.
The lawsuit alleges that, in 1995, after allegations against Butler first became public, Cheryl Butler allegedly called the victim in question and threatened her in order to keep the girl quiet. The coach's wife is also accused of later bullying one of Butler's accusers on Facebook and helped conceal his assaults.
Butler has been banned from the Amateur Athletic Union and Wisconsin-based Junior Volleyball Association since the start of 2018, while USA Volleyball announced a ban against him in January. The Sun-Times notes that Butler has never been charged with a crime, and several of his accusers said that the relevant statues of limitations expired before they came forward with their allegations.