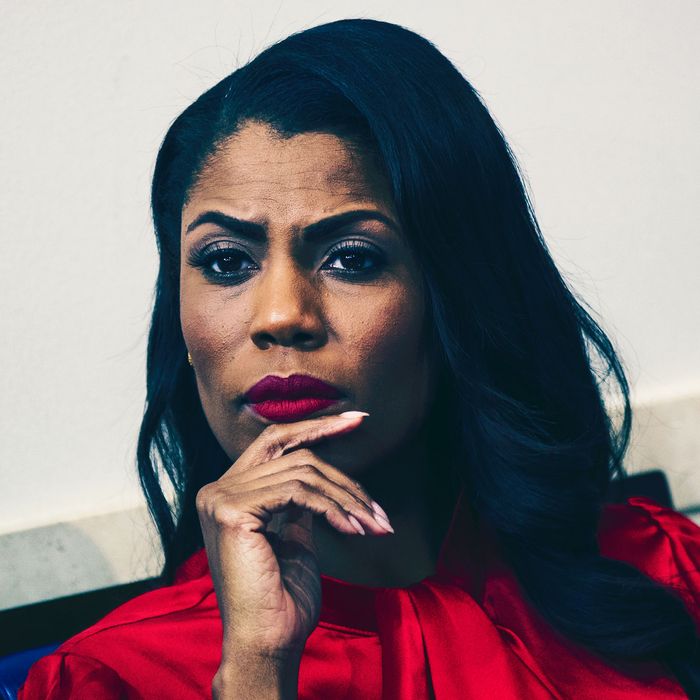 Omarosa Manigault.
Photo: Drew Angerer/Getty Images
Like most high-profile exits from the Trump administration, Omarosa Manigault's firing back in December was dramatic, messy, and confusing. There didn't seem to be any consensus on why she had been let go, whether she had, in fact, been forcibly removed from the grounds after she was fired, or what she was even doing at the White House in the first place. Now, we may have the answer to at least one of those questions. According to a new report, Omarosa was fired for abusing the White House car service.
Per Politico:
[White House chief of staff John Kelly] dismissed the former director of communications for the Office of Public Liaison, Omarosa Manigault, who had been using the White House car service — known as "CARPET" — as an office pick-up and drop-off service, something strictly forbidden by the federal government, according to three administration officials.
A free car service wasn't the only White House amenity Omarosa took advantage of during her time there. After her wedding ceremony in April, she reportedly brought her 39-person wedding party back to 1600 Pennsylvania Avenue for an extravagant photo shoot, infuriating her fellow West Wing staffers.
But now that she's gone, Omarosa has been working to rehab her MAGA-tarnished image, teasing a tell-all book, saying she would never vote for Trump again "in a million years," and that she was "haunted" by his tweets. Most recently, she told her fellow contestants on Celebrity Big Brother that they should be equally worried about Vice-President Mike Pence.
"He's extreme. I'm Christian, I love Jesus, but he thinks Jesus tells him to say things."