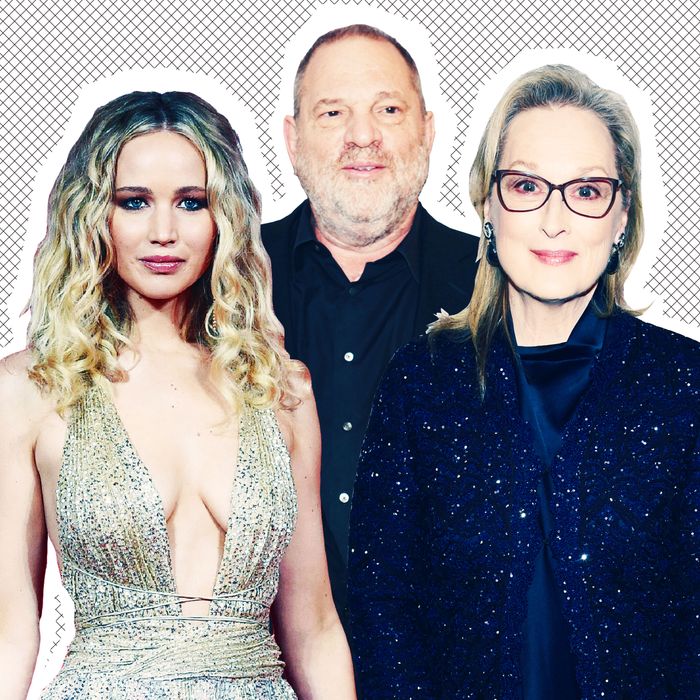 Jennifer Lawrence, Harvey Weinstein, and Meryl Streep.
Harvey Weinstein's lawyers are pulling out all the stops to avoid a sexual-misconduct trial, and they're bringing in some big name celebrities to get the job done. According to court papers reviewed by "Page Six," Weinstein's lawyers, Phyllis Kupferstein and Roxanna A. Manuel, claim that not all female actresses and celebrities revile Weinstein, and cite Jennifer Lawrence and Meryl Streep as examples.
The claim is an attempt to avoid a sexual-misconduct lawsuit brought on by six women, including Zoe Brock, Louisette Geiss, Katherine Kendall, Melissa Sagemiller, and Nannette Klatt. Weinstein's lawyers take issue with the wording in the suit. "These proposed class definitions are fatally overbroad as to be not ascertainable," they argued. "As drafted, they would include all women who ever​​ met with Weinstein, regardless of whether they claimed to have suffered any identifiable harm as a result of that meeting."
The lawyers used Jennifer Lawrence as an example that not all women hate Weinstein, saying she told Oprah in an interview with The Hollywood Reporter last December that she saw Weinstein as a father figure. "He was paternal to me," she said.
Kupferstein and Manuel also brought up Streep, who, according to "Page Six," "stated publicly that Weinstein had always been respectful to her in their working relationship."
Of course, the lawyers left out a lot of other quotes from the two actresses regarding Weinstein. While Lawrence did call him paternal in the interview, she also explained why she was silent at first, saying she "needed a moment" to digest the news. She also described to Oprah how disgusted she felt when she heard the various allegations. "I felt sick in my bones for an entire day," she said, ending the conversation of the topic by emphasizing the need for social change. "Men need more social awareness."
Similarly, while Streep may have previously admitted to a close relationship with Weinstein, she later spoke out against him. "The behavior is inexcusable, but the abuse of power familiar," Streep told the HuffPost in October. "Each brave voice that is raised, heard and credited by our watchdog media will ultimately change the game."