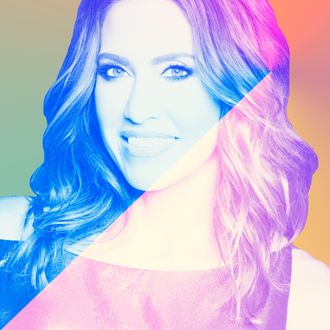 The Beauty of It All: Questions for the brains behind the beauty industry.
Decades before turning the cosmetics world on its head, Wende Zomnir had other plans.
"I wanted to be a broadcast journalist," she recalls. "I'd watch Deborah Norville, and even our local news affiliate anchors. They were smart, in charge, and they looked good. I know I would have been good at it, too."
That unabashed confidence is classic Zomnir. The Chief Creative Officer and Founding Partner of Urban Decay is equally adept at painting her eyelids a glittery violet as she is at snowboarding down a double diamond. A self-confessed makeup fiend since she learned how to hold an eye pencil in her hand, Zomnir began her beauty career in earnest as an undergrad when she landed a job at the Elizabeth Arden counter at Monning's department store in Fort Worth, Texas.
"It seemed so glamorous to be selling Elizabeth Arden, and they gave us free makeup, which I couldn't afford!" laughs Zomnir. "My co-workers were career counter ladies in their 50s and 60s. I learned so much from them about products, why people buy, and about life in general. Our customers were older, so it was more of a skin-care play, but I always managed to sell them some makeup because that was what I loved. There was one dark purple eye shadow in the line, and I wore it every single day, along with [Lancome's] Magie-Noire fragrance."
Meanwhile, an entrepreneurial urge was forming inside the young Zomnir, something she thinks she inherited from her father.
"I'd hear my dad talk about putting together plans to open a racquetball club, and he sounded happy when he talked about it," she recalls. "But he had a good corporate job, and a family, so he stuck with that. But his own job didn't seem like it made him happy. So perhaps I internalized that."
In late 1995, Zomnir met businesswoman Sandy Lerner. A fellow makeup zealot, Lerner also bemoaned the dearth of bold shades, and the two set out to rectify the issue. Less than six months later, they launched Urban Decay, a collection of lipsticks and nail polishes whose unexpected and grungy shades were as badass as the shade names (Acid Rain, Oil Slick, Asphyxia) bequeathed them. U.D.'s first magazine ad read: "Does Pink Make You Puke?" Talk about a birth announcement.
The brand's offerings grew year by year, but in 2010, one product thrust Zomnir and her team into the big leagues. The Naked eye-shadow palette, a generous paint-box-sized pan containing 12 of her team's "desert island" must-have shades, became the go-to makeup item for everyone from Mindy Kaling to Kate Middleton to Zomnir's sports and beauty idol, Gabby Reece.
"We bonded over the Naked 2 palette and now we're friends. How rad is that??"
In no time, L'Oréal came knocking, and made it official in 2013.
Last year, Urban Decay hit the big B (as in, $1 billion) in retail sales, thanks in large part to that aforementioned NAKED franchise (currently seven versions, more are in the works).  While Zomnir continues to give her all and then some to the brand, she has never forgotten the value of connecting at the counter.
"Our beauty advisers are the people who do the work for us," she boasts. "They all love beauty so much, and they're the ones who make that cash register ring. They're my people, so I want to throw down with them."
The Cut caught up with Zomnir during a meet and greet with some of those advisers at Sephora inside J.C. Penney in Dallas, where she took a few minutes to share her favorite kombucha flavors, the heels she'd run a marathon in, and why she obsesses over ski-condition reports.
What do you cleanse with? I'm a big believer in double cleansing. I like to dissolve everything first, then wash it away and get the grit out. I first use three pumps of Shu Uemura Cleansing Oil. If I have a lot of eye makeup on, I'll also use Urban Decay Dissolving spray before the oil. Then I use our Cleansing Oil Stick, which foams up. Sometimes I'll use Skinceuticals Gentle Cleanser if my skin is feeling dry or irritated.
What scent do you wear? Our Go Naked fragrance, which I developed with perfume creator Sarah Horowitz. It smells like walking on beach and getting warmed by the sun. I also wear Margiela Beach Walk. I love beachy scents.
Who cuts your hair? Louis Orozco. He has a salon called Madison in Newport, but he cuts my hair in his living room loft overlooking the bay. I like the privacy. I don't really want anyone watching me get my hair cut.
Shoe of choice? Gianvito Rossi. I think they're so comfortable and rad and not on everyone's radar. But I also do love a good Saint Laurent shoe. I wear the Babies booties and the classic Tribute for when I literally have to run a marathon in high heels. If I'm going someplace where I have to stand for hours and be fabulous, that's what I will put on my feet.
Jeans of choice? Frame. I do experiment with other ones, but in terms of fit, Frames are great, and they make super long ones. Jeans are sort of the staple in my closet, so I have every cut.
What phrase or word are you known for saying? I probably say "really" too much.
What drives you crazy? People who cut you off and then slow down. Walking or driving. You can cut me off and I am down with that, but do not slow down once you've gotten in front of me.
What is a lost art? Handwritten notes, on cards, with your name engraved on them, put in lined envelopes.
What is always in your fridge? Kombucha. I don't make my own because my husband would die if there was a fermented mother in my kitchen. But I have two friends, each of whom own raw food places — Fermentation Farm and Farm & Culture — so I buy their homemade blends. My favorite Fermentation Farm flavor is Blackberry, and my favorite of Farm & Culture is Basil Mint, which I mix with The Amigos, a lime, jalapeño and cilantro blend.
What should Pantone's color of 2018 have been? I'm not arguing with Pantone at all! I agree with violet.
What song is currently in your head right now? And are you happy about it? "Unforgettable" by French Montana now, and yes, I am happy about it.
What are you working on mastering? Beach volleyball, and it drives me crazy. I play once or twice a week. I've got a crew of women and a few guys who come play on a court in front of my house. I've gotten to a level where I'm competent, but it's a big jump to go from competent to good.
What do you splurge on?  Vintage rings. I just bought this super cool pinky ruby that has these little claws to keep it in. It's delicate and gothy at the same time.
What is your weakness? I am a terrible filer. My desktop is filled with a million documents and screen shots that never go into a proper folder, and my desk is equally as bad.
Preoccupation? We're big snowboarders and there's no snow this year, so I talk nonstop to my husband about this. "What's happening? Is this really the end? What can we do? I'm kind of freaking out about global warming and the lack of snow.
Favorite Instagram? The woman who does my hair for shoots. Her name is Carly Campbell (@campbellcarly). She's also a photographer and she's got the most amazing eye. Her feed is beautiful and calm and inspiring.
What or who makes you laugh? My children. They have a weird, dry sense of humor and they say the most hilarious things. They're still innocent and sweet, but they have this sarcastic edge that's really funny.
Favorite meal and where? An Indian dinner at my friend Nimisha Wildman's house.
What product in your domain is misunderstood and should be a best seller? Oh my god, our Pressed Compact Powder. It's been disco-ed [discontinued] and everyone in my office is really sad about it. It was creamy and gave great coverage but not too much. Sadly, it was misunderstood.
What do you foresee as the top beauty trends in 2018? Gloss is definitely making more of a play, changing up the lip look because it's been a structured lipstick one for so long. Glitter is still on the scene, and my wish is to see a little more undone quality in makeup.
If you won the Power Ball, after, of course, giving the majority of it to your favorite charities, name the next five things you would do. Buy an A-Star heli so I could snowboard pristine pow with my friends, get a surf yacht (like the Google one — same idea, different state of water), acquire a Basquiat, own enough L'Oréal stock to get a seat on the board of directors, learn to speak Spanish.
What do you wish you had invented? Uber, because I love the whole sharing-economy thing, sans the misogyny and abusive culture. I would have done it like a lady.