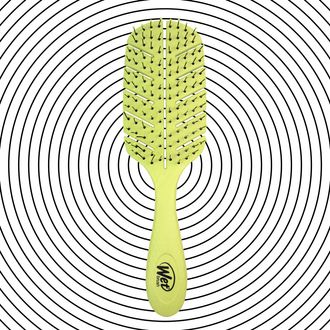 Everyone's favorite Wet Brush is getting an eco-friendly update. The original brush helps detangle gnarly hair knots without being painful, gives hair a shampoo-commercial-ready sheen, and contributes to the best blowouts. Wet Brush's latest innovation is the Go Green Detangler, which is an easy way to make your hair routine more sustainable.
The lime-green brush is made of plant starch, taken from a variety of vegetables and plants like corn and potatoes, so it's designed to be break down within five years. But don't worry — the brush won't spontaneously disintegrate while you're in the middle of detangling your hair in the shower. Most biodegradable products have to be disposed of in compost facilities in order to break down and be consumed by microbes. Other plastics that are made from petroleum take nearly 400 years to break down and never actually go away.
Like the brand's other popular and affordable brushes, the Go Green Detangler one uses strong and flexible IntelliFlex bristles, which move with the hair and gently bend around and over tangles, rather than pulling or breaking the hair. The brush is designed for all hair types and it will cost $13.
The Go Green brush will be available in April in salons and on their site in time for Earth Day (April 22), and it also comes with a pack of Rudbeckia flower (also known as black-eyed Susans) seeds to help you hone your green thumb in time for spring.