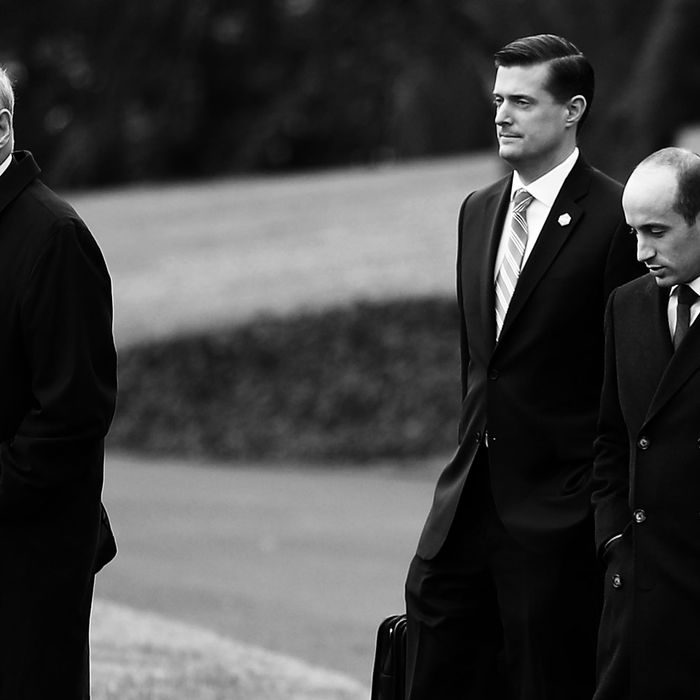 White House chief of staff John Kelly, Staff Secretary Rob Porter, and senior adviser Stephen Miller.
Photo: Mark Wilson/Getty Images
Just days after White House chief of staff John Kelly defended former staff secretary Rob Porter as a "man of true integrity and honor" amid domestic-abuse allegations, a new report from the Washington Post reveals that both Kelly and White House counsel Donald McGahn have known about the allegations against Porter for months.
Revelations of Porter's alleged abusive past surfaced earlier this week when multiple outlets published accounts from his two ex-wives, both of whom claim Porter emotionally and physically abused them. Porter resigned on Wednesday, calling the allegations "outrageous" and part of a "smear campaign."
According to new reporting from the Post, these allegations weren't new to the two top White House officials. McGahn reportedly learned of them over a year ago when one of Porter's former girlfriends called him and asked him to investigate the allegations. McGahn reportedly notified other personnel in the Trump administration but did nothing else, as he wanted to keep Porter in the White House.
The Post reports: "In January 2017, when McGahn learned of the allegations, he wanted Porter to stay put because he saw the Harvard Law–trained Capitol Hill veteran as a steadying, professional voice in the White House, according to people familiar with the matter."
Kelly found out about the allegations against Porter last fall, when McGahn reportedly filled him in on why Porter only had interim security clearance, the Post reports. They ultimately decided to keep him in his role, and Kelly even offered him more responsibilities.
According to a White House spokesperson who commented to the Post, McGahn and Kelly felt misled by Porter.