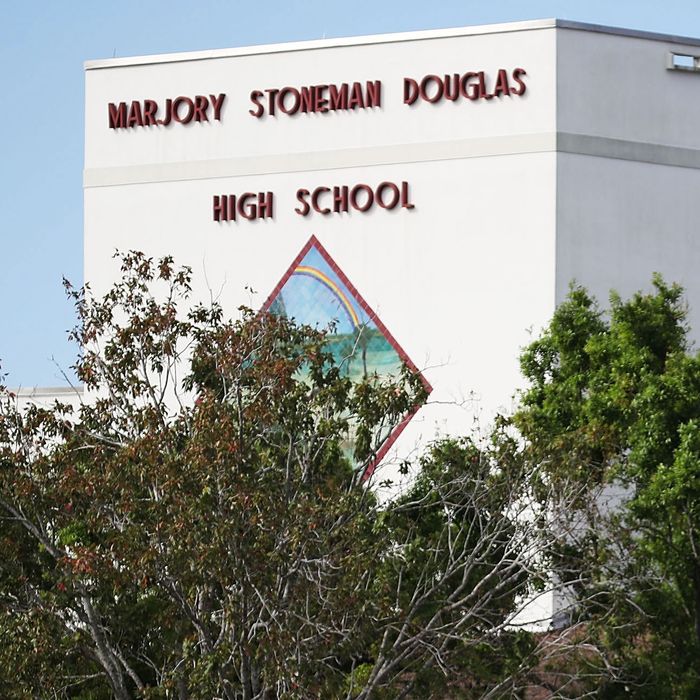 Marjory Stoneman Douglas's name adorns the high school where last week's deadly shooting took place.
Photo: Joe Raedle/Getty Images
On CNN's Reliable Sources, host Brian Stelter took the time to talk about Marjory Stoneman Douglas, the woman whose name adorns the school where last week's deadly shooting occurred. "I think it's notable this is a journalist turned activist," Stelter said of Douglas, who many in Florida would consider a hero, whether they know her or not. Given Marjory Stoneman Douglas High School has been in the news as of late — albeit for extremely tragic reasons — it's worth learning a bit about Douglas.
Born in 1890 in Minneapolis, Minnesota, Douglas moved to Florida when she was 25 to work for her father at the Miami Herald, where she started as a society reporter. It was during her years at the paper that she discovered and advocated for various feminist, anti-racist, and environmental causes, according to the National Park Service.
In 1917, she traveled to Tallahassee to speak in support of women's right to vote, and it was around this time that she started to focus much of her writing on women in leadership positions. It wasn't long before her work in journalism shifted to activism, and Douglas soon dedicated herself to the preservation of the Everglades.
Thirty years later, in 1947, she published The Everglades: River of Grass, a landmark conservation book that detailed the degradation of the Everglades. Douglas was a staunch advocate for natural preservation and restoration of South Florida's environment, and she created and led the Friends of the Everglades organization.
"When she spoke, everybody stopped slapping [mosquitoes] and more or less came to order," John Rothchild described her in his introduction to her autobiography Voice of the River. "She reminded us all of our responsibility to nature and I don't remember what else. Her voice had the sobering effect of a one-room schoolmarm's."
Along with the school in Parkland, an elementary school in Miami-Dade County is also named after her. Douglas lived to be 108.