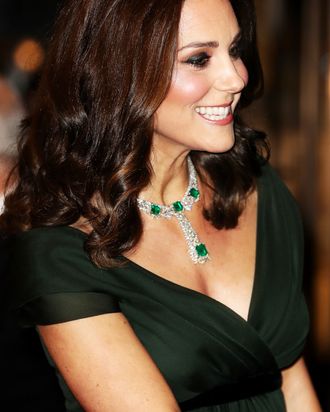 Kate Middleton instead wore green.
Photo: Chris Jackson/Chris Jackson/Getty Images
Kate Middleton certainly stood out in her emerald green dress on the British Academy Film Awards red carpet, and not necessarily in a positive way. While many of the award show's attendees were wearing black in support of the Time's Up initiative, just like celebs did at the Golden Globes, Middleton ultimately chose not to participate.
The fact that she showed up in a colored dress, though, is not all that surprising. It was speculated before the BAFTAs that Middleton might not wear black in solidarity with victims of sexual harassment, as making political statements is actually a violation of royal protocol. And, for better or for worse, Time's Up and #MeToo are both political movements.
Given all the charity work that Middleton has done around mental health and motherhood, one can assume that were the aforementioned royal protocol to not exist, she would likely be wearing black like all the other stars. But at the same time, given the rule against making political statements is very vaguely defined, it's likely the Duchess of Cambridge will face some criticism.